Dana International is nowhere to be found on Offer Nissim's U.S. debut album, First Time. Know how you can tell? The first transsexual, first Israeli Eurovision Song Contest winner would never allow her work to go uncredited, as the artist here does. Her winning song (and one international hit) wasn't called "Diva" for nothing.So just who is that female heard all throughout First Time? Her name is Maya Siman-Tov, or just Maya for short. As Nissim acknowledged in a Billboard interview, Maya, a young Israeli singer, actually wrote all the lyrics and melodies on First Time. "The album is a real collaboration," he said, before adding, "But I have the last word."
Yes, indeed. And the only official notice. The album isn't being promoted as Offer Nissim presents Maya. Or as Offer Nissim featuring Maya. And it's certainly not simply Maya, even though Nissim appears to be more the producer than the artist here, in the same manner that the gay-popular Israeli DJ was the producer for Dana International. Maya has to settle for fine-print notice in the liner notes. You have to be inspired, in other words, to search out her name.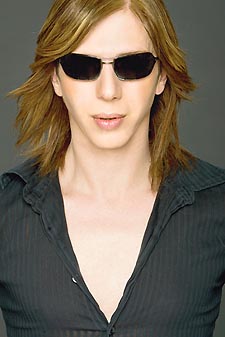 International male: Nissim
But search you will. Not only is Maya's a refreshing voice in dance music today — it's smart, serious, quiet, soft but not weak, sweet but not cakey, vulnerable but not insecure. But for all this spotlighting of the slight of Maya here, I have to confess: Nissim has produced an amazing album, one that exceeds expectations of a dance album. It may be a little too uniform — the scenery changes, but nearly every song courses down the same medium-fast tribal rhythm desert road. Still, it never becomes unpleasant or monotonous. And it's not just a collection of forthcoming singles (though several of these already have been). First Time is a consistent, true-to-form album, with a thought-out progression: a strong beginning, middle and end, with songs that work well together, lyrically as well as musically.
And they do so cleverly: Maya sings of her being lost after her lover has gone on "Searching." But that's immediately followed by her singing that she's finally realized she's better of without the ex on "Alone." Nissim's melodies usually act or react to what Maya's singing — as the melody writer, perhaps we should give her the credit for that. So she sings of "Rain," with her voice falling down the scale and strings splish-splashing around her.
"That's the Way I Like It" ends the album in exceptional fashion. It begins, fittingly, as a gently sung, piano-driven ballad. But the more Maya thinks about how great she feels — "when you're holding me, when you're touching me, when you're feeling me, I like it" — the more ecstatic she becomes, cooing and ad-libbing sweet-nothings. Eventually the music catches up and matches her mood. And once it does, it's all over. She's sent back down to wallow in the fine-print credits, and Nissim rides off again, after having the last word — or in this case, the last synth-jab.
Elkland comes across as a poseur pop band. No surprise, given that the New York quartet's oldest member is only 23 — just born when the music they channel today was brand new. Columbia, the band's major-label supporter, obviously picked the boys out of the neo-new wave/synth-pop vat thinking that they might win over their age group in the same way that The Killers have.
Still, the idea that Elkland is a pose is a bit disheartening, considering that out of all its competitors, Erasure tapped these boys to open on its current trek across America. On first listen it's not hard to see why. Elkland's debut album, Golden, echoes much of the happy-sad synth sound that Erasure helped to patent. It's full of catchy, cute. PG-rated songs that are actually too much of a good thing. They sound a bit like caricatures of songs from bands they didn't grow up on, including some they're probably still not familiar with and others they still haven't heard of. So one song sounds exactly like The Cars, another like Alphaville, still another like Spandau Ballet, and on and on.
Perhaps I'm not being fair. After all, there's only one objectionable song (and it's as bad as it sounds: "We Share a Heart"), and many that appeal. And is there really anything wrong with a new band that vividly reminds you of your favorite bands from your youth? Well, yes, actually: When that new band doesn't seem to really appreciate you or your favorite bands, its clear pop predecessors.
So Elkland is opening for Erasure. And they often sound like Erasure. But they don't care for Erasure. As lead singer Jon Pierce told New York's HX last month, "To be honest, Erasure is one band that I just never got interested in. I had never bought a CD or seen a live show until someone recently lent me a video of the Wild! tour."
We appreciate the honesty Pierce, really we do. It says all we need to know.