When the woman-powered BETTY opens the mainstage at Sunday's Capital Pride Festival, it will be a homecoming of sorts. You see, they've played Pride before, way back in 1989, back when it was a small gathering on Q Street. And while they were just here in March, for a five-week stint performing their show BETTY Rules at Theater J, performing at Capital Pride means something to the group, which has always had a powerful connection with the LGBT community.
"BETTY came together in Reagan eighties, when the entire administration was denying the existence of AIDS," says the group's bassist/vocalist Alyson Palmer. "We started doing fundraisers because too many of our friends were getting sick and dying, and there was a hideous pall of silence in the administration."
The crucible of the early days of the AIDS epidemic strengthened an already existing bond between the band and the community through Elizabeth Ziff, BETTY's lesbian member and a "fierce proponent of lesbian and gay rights." Actually, "fierce" is entirely appropriate for the outspoken Elizabeth, who, according to legend, began speaking out at an early age when she lead a topless protest among the girls in her second grade class. Why? Because the boys were allowed to go topless and the girls weren't.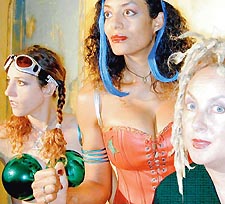 Betty
BETTY fights tirelessly for causes they believe in, such as equal rights, finding cures for breast cancer and AIDS, and protecting reproductive freedom. Their performances have helped to raise millions for these causes.
Palmer and sisters Elizabeth and Amy Ziff — the three original members (the two male musicians in the group are affectionately known as "the balls behind BETTY" — got their start in the mid-eighties when they performed a capella at a birthday party for 9:30 Club owner Dodie Bowers, where Palmer worked as a bartender. The next thing they knew, they were opening for groups like Living Color, Patti LaBelle, James Brown and the B-52's. The band has also appeared in several movies, including The Out-of-Towners and The Incredibly True Adventure of Two Girls in Love, as well as their own I Remember BETTY. Television appearances have included stints on the Food Network and Comedy Central, as well as their own monthly local New York Show BETTY: Off the Record. Pretty impressive, for a career that just kind of happened.
"We never really had any planned trajectory," says Palmer. "And we've been really fortunate to have a such an unbelievably rich career."
Recently, the girls lent their signature sound — a rapturous blend of vocal harmonies — to HBO's Real Sex and Showtime's lesbian-centric The L Word.
Says Palmer: "The producer of The L Word saw us performing BETTY Rules at a fundraiser for Planned Parenthood and flipped. She said that we had exactly the sound she wanted for the show."
BETTY has big plans for 2005. They'll be back next season on The L Word with newly penned songs. And if you missed their show BETTY Rules — which, notes Palmer, tells the "story of a group of people trying to keep a relationship going against all odds in the contemporary world" — you may still get a chance. BETTY Rules is being pitched as film, and could soon be coming to a silver screen near you. Palmer, whose 19-month-old daughter Ruby travels with the band and sometimes joins them on stage, is also getting involved in Mamapalooza, a "festival for moms who rock."
But right now, BETTY's just excited to be back where it all began. And they have some special treats in store for Capital Pride-goers.
"We are so excited about coming back to D.C. to kick off Pride," says Palmer. "We feel D.C. is the epicenter of a great need in the world to drag ourselves out of the dark age this administration is trying to bring us into."
If anybody can rock us out of the dark and into the light of Pride, it's BETTY, with their eclectic, funky sound and in-your-face attitude. After all, isn't that what old friends do?
BETTY opens the Capital Pride 2005 mainstage at noon on Sunday, June 12.