Anyone who has survived a devastating breakup or divorce can relate to The Last Five Years, a veritable "he said, she said" of events that took place over — you guessed it — the last five years in the lives of Jamie and Cathy, two bright, cosmopolitan twenty-somethings who deny their roles in what went wrong between them. His depiction of their history is told as the relationship blossoms, while hers is an account in reverse chronology. The premise is simple enough, and in 90 musical minutes, a five-year-old relationship is inspected under the looking glass of Broadway composer/lyricist Jason Robert Brown.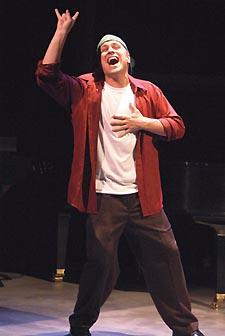 That's what he says: Bush as Jamie
(Photo by Christopher O. Banks)
Alexandria's MetroStage introduces Brown to Washington audiences who may be familiar with his more popular works, including 1995's glorious Songs for a New World or his contributions to the Broadway score of 2003's short-lived Urban Cowboy. Brown also earned a Tony Award in 1999 for his masterful score of Parade, an undervalued production featuring Brent Carver and Carolee Carmello that closed prematurely after only 85 performances. In spite of his lack of commercial success, music theater aficionados hail Brown as a prolific young genius and clamor to sing his material and see rarely-produced versions of his work.
And so audiences may arrive at The Last Five Years with expectations of soaring music and searing lyrics, in the kind of trademark sassy style of Brown, and if that's what they've come to hear, they'll find exactly half of their expectations met. The truth is that as much as you want to swoon over Brown and his remarkable compositions, the music of The Last Five Years — a lucid and bittersweet blend of ballads and witty solos written in 2001 — is not as sophisticated as his other, more memorable scores. But Brown's songs are always filled with interesting and intelligent choices, and here each of the roughly fourteen numbers is an unpredictable ride on his merry-go-round of a song cycle.
Jane Pesci-Townsend moves out of the academic realm (she is Chair of the Music Theatre department at Catholic University) and marks her professional directing debut with a no-frills production that balances out like a theatrical seesaw, heavy on music direction and light on critical story-telling mechanics. It's an evening of highs and lows, as the cast of two is joined by music director Howard Breitbart at the piano and four other brilliant musicians who lend heft and heart to Brown's score. But her austere staging never elucidates the plotline and fails to establish time and place, and one of Pesci-Townsend's confounding casting choices adds a final dichotomy of efforts to the already incongruous affair.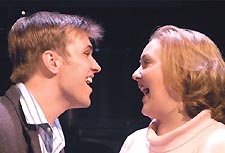 That perplexing choice is the casting of Mark Bush as Jamie, the successful New York novelist who marries Cathy, a struggling actress who resents her husband's budding career. Bush is no match for Tracy Lynn Olivera, whose heartbroken Cathy is colored by an emotional depth and clarity that Bush is not yet mature enough to define. His solos are tedious, apologetic numbers delivered with nervous eye-rolling and hokey dance movement, indicating that either he feels embarrassed, humiliated, or bored with the material, or it signals that Bush doesn't trust the music will work well on its own merit.
The Last Five Years
MetroStage
1201 North Royal Street
Alexandria, Va.
1-800-494-8497
www.metrostage.org

That same music from Jason Robert Brown catapults Olivera to diva-licious status with her moving renditions of "See I'm Smiling" and "Climbing Uphill." Olivera treats her script as just that – a script – more than a wooden concert and less than an operatic melodrama, presenting a multi-dimensional woman who suffers, smiles, and sings through her side of the story.
Though the duo is dressed in a series of uncoordinated, unflattering, and even unfashionable outfits, Olivera's crisp, clear vocals and sharp command of the stage is a relieving antidote to Bush's near-camp interpretation, ultimately saving The Last Five Years from becoming more than just another closed chapter in time.