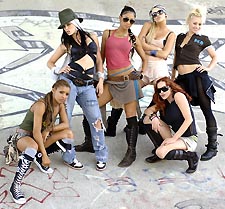 Pussycat Dolls
SONG OF THE SUMMER, ALREADY OVERPLAYEDÂ…If you've been out even once in the past couple weeks, you know the song. Don't cha? "Don't cha wish your girlfriend was hot like me? Don't cha wish your girlfriend was a freak like me?" In what is quickly becoming a contender for song of the summer — and just as fast, overplayed song of the summer — "Don't Cha" is the first single by a new manufactured girl group with the kicky name Pussycat Dolls. More Spice Girls than Destiny's Child, this multi-ethnic mix of seven co-ed playthings was assembled less on the basis of vocal abilities than on general good looks and on how well the girls move; a choreographer put the Dolls together. As part of the gimmick, there's even a Pussycat Doll Lounge in Vegas' Caesar Palace.
"Don't Cha" is all the rage on MTV and the Hot 100 Billboard chart, courtesy of a sexy video and lyrics and a rap from Busta Rhymes. But those lyrics, and two suitably named "Hot Freak" remixes from Ralphi Rosario, the other half of tribal master-maker duo Rosabel, have made it an even bigger hit in gay clubland, for a reason that's easy to see. The remix is a breathy booty-shaker to match the lyrics. "I know I'm on your mindÂ…I'm fine/I ain't lying/Look at me, shit/You ain't blind," the bridge teases. There's a hitch though: the song was radio-edited "Hollaback Girl" style, substituting "shhh" for "shit," and replacing "I know you should be fucking me" at the end of the first verse with "I know you should be home with me." Unfortunately, Rosario didn't get the original edit on which to work his magic, so his club mixes are unnaturally PG-ed too. Although not even 12-year-olds can buy them: A&M Records has no plans to release the remixes. The music industry still hasn't figured out there's money to be made among danceheadsÂ…
PRIDE OFFER LIKE NO OTHERÂ…Of all the things you could do in New York this weekend for Pride, a visit to the old Twilo nightclub, rechristened Spirit, should be high on your list. And not just for any reason, or any night. Oh sure, you could go twice – Junior Vasquez and Tracy Young are co-spinning Sunday – but you should at least go Saturday, June 25. DJ Peter Rauhofer, formerly a resident at the old stalwart the Roxy, has been "working" at Spirit, with his Work party, the last couple months. But his Pride edition could be the best one yet. How do we figure? Because of a man named Offer Nissim. The openly gay, 25-year-old Nissim is Israel's most popular DJ in the vibrant but hardcore Tel Aviv gay club scene. Rauhofer is flying him over to spin the first several hours Saturday night, during which time the expressive singer and co-writer of his songs, Maya Simon-Tov, will also perform. Nissim and Maya are expected to perform at select spots across the U.S. in coming weeks, but they'll most likely miss D.C., so Spirit might be your only shot to see them.
You can already hear them on the recently released First Time. Rauhofer took the unusual step of signing Nissim to an album contract on his Star 69 record label, usually just a venue for singles and compilations. And for good reason: First Time is one of the best dance artist albums to drop in a good while, featuring one good song after another. Even before the album Nissim was already a leading tribal house producer, and a clear favorite of Rauhofer as well as Abel. His tribal sound is a little different than both of those celebrated DJs' though. Perhaps befitting his base in Israel, it's generally more arid, more minimal, more stringy, and, not least, more emotional, as if burdened by the worldÂ…
SHAKE YOUR COCONUTSÂ…Remember Junior Senior, the daffy Danish duo of one skinny straight guy, Junior, and one chunky gay one, Senior? Rolling Stone reports that not only are they still together, but a sophomore album could see release later this year. Earlier this month Jesper "Junior" Mortensen and Jeppe "Senior" Laursen were reported to be mixing in Los Angeles the follow-up to 2003's D-D-D-Don't Stop the Beat, which featured the irresistible "Move Your Feet." Classic soul and funk are said to be stronger influences this time than party rock and playful pop. But with these two, it's always a party. "We liked the stuff on the last album that had a groove to it," songwriter Mortensen told Rolling Stone. "We wanted to make something that was more funky"Â…
ONE YEAR IN HER LIFEÂ…It's taken more than a year, and now it's been pushed back another couple months. But dance-pop singer and breast-cancer survivor Anastacia's self-titled album will finally see release in the U.S on Aug. 30, Billboard reports. Anastacia was the second most popular album in Europe last year, after Norah Jones' Feels Like Home, and it produced several major hits. Only one song, "Left Outside Alone," was released stateside, and it didn't really go anywhere, perhaps the reason we didn't hear anything more and even more the reason why she's now switched labels from Epic to Daylight/Columbia. It's still not clear what single the label will push the album with – either a re-release of "Alone" or the second European single "Sick and Tired." Anastacia will make the rounds performing on the talk show circuit at the time of releaseÂ…