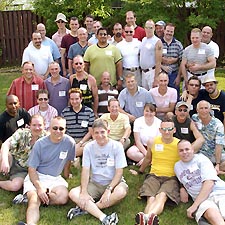 Members of Partners Metro D.C.
MISSION: Founded in 1996, Partners Metro D.C. supports committed gay and lesbian couples and fosters acceptance and understanding of these relationships in the GLBT community and society at large.
COMMON ACTIVITIES: The group holds monthly socials, as well as a few annual events for the approximately 20 member couples.
HOW TO JOIN: Membership is open. Dues are $40 per couple, payable in January. Couples joining after June 1 pay $20 for the remainder of the year.
BACKGROUND: "We just sort of stumbled across it," says Jeff Sanfacon of his first encounter with Partners Metro D.C., of which he is now co-president along with his partner. "We were at Pride. We saw the booth, and it sounded like an interesting way to get to know people." Sonfacon says he appreciates that Partners is incredibly low-key, demanding nothing — except dues — of its members, while still offering plenty of activities. "We do offer a wide range of activities, like hiking and a weekend trip to Lost River [W.Va.]," he says. "It's easy. It's just a fun way to meet people. It's the camaraderie of other gay couples, being with people who relate to similar events in their lives."
CONTACT: E-mail partnersdc@yahoo.com, or visit www.geocities.com/partnersdc.
NEXT EVENT: Financial Planning Seminar, Wednesday, July 20, at the Hyatt Regency Washington Hotel on Capitol Hill. Members free, $5 for non-members.