When Moisés Kaufman cobbled together all of the manuscripts, poems, witness testimony, biographical accounts and fictional literature that culminates in Gross Indecency: The Three Trials of Oscar Wilde, he probably didn't imagine an Oscar Wilde preparing for his own courtroom drama by grooving to mid-career Aerosmith, or that Wilde would dance a somber waltz with his partner, Lord Alfred Douglas, to Icelandic sweetheart Björk. Luckily for us, Jeremy Skidmore did.
Skidmore knows that it's all about the subtext, and the ambitious artistic director of the Theater Alliance renders Kaufman's 1996 vision of the Wilde trials practically obsolete, infusing Kaufman's popular brand of ensemble docu-theater (think 2000's The Laramie Project) with a healthy dose of immediacy and the rare pairing of strong theatrical instincts with a few genuinely self-effacing oddities. Skidmore realized that all Kaufman's script needed was a little high touch renovation and one peculiarly killer soundtrack — I'm still trying to convince myself that I didn't hear strains of Poison's "Unskinny Bop" poised just before the melancholy chords of Death Cab for Cutie — to relay all of the hard-pressed relevancy of Wilde's 1895 trials to hip American audiences over one hundred years later.
It's not that there was anything wrong with Kaufman's Gross Indecency, it's just that in the hands of Skidmore and his cast — a brilliant amalgamation of North Carolina School of the Arts students and local theatre professionals — it has evolved into quite another beast. Oh, it's still the same rudimentary story of how Oscar Wilde came to define the modern homosexual, and it still runs through the paces of three unjust and squarely Victorian trials, but Skidmore's production does more than extend a mere handshake to history, it lashes out with the kind of virile energy and refined passion that is associated with the work of revolutionaries and their sharp political acumen.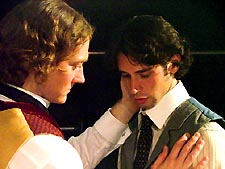 Wilde boys: D\'Ambrose and Pastides
(Photo by Bruce Robey)
Much of that exciting stagecraft can be attributed to Cooper D'Ambrose's Oscar Wilde, who, at roughly 20 years younger than his role solicits, is able to define the Irish playwright with all of the remarkable ambivalence and strained sorrow affixed to Wilde in later biographies. He is matched by an impressive corps of ten actors who circle around each other in a frenzied sort of sporting match, including fellow North Carolina student Andrew Pastides as a gun-shy "Bosie" (Wilde's nickname for Alfred Douglas), and as Alfred's father Queensberry, Scott McCormick's gravelly nemesis of a voice provides all of the dramatic tension necessary to intimidate prim London society. Jason Lott, Alexander Strain, and Grady Weatherford also serve the stage quite nicely, from their high-nosed Victorian brats to young bed rogues called to testify against Wilde, professing that he performed "gross acts of indecency" on them in various hotels and private suites.
Of course Wilde maintained his innocence — as a long-winded George Bernard Shaw (Weatherford) fervently explores in the second act — and although his lawyers and patrons advised him to leave town before his trial commenced, Wilde remained transfixed by his ruin, undulating between bouts of self-composition and self-doubt. He was more (pardon the expression) bewildered by his own machination of guilt than by the acts of sodomy he was accused of committing, more confused by how his own hand dealt his destiny than by the prosecuting evidence formed against him. As NYU scholar Marvin Taylor asserts, he was not only being tried for corrupting young English boys, but that "Wilde was being tried for his subversive approach to art."
"The secret of life is in art," Wilde proclaims, and as Andrew R. Cissna's dynamic lighting plot fades to black, we are reminded that although Gross Indecency was never considered groundbreaking theatrical work, it's what Skidmore has built into the text, through brief scene transitions and fiery montages loaded with subtext, that makes his production so smart and so inspired.