"La vengeance est un plat qui se mange froid." Before Dorothy Parker, there was Pierre Choderlos de LaClos, and his 1782 novel Les Liaisons Dangereuses never lets us forget that revenge is a dish best served cold. Since its classic Baroque origins, the stiff French sentiment has been famously explored in various scripts for the stage and screen, most notably by Christopher Hampton, who first wrote his theatrical version in 1987, and then later adapted his work for the film Dangerous Liaisons with Glenn Close and John Malkovich.
A juicy moral fable filled with tongue-in-cheek double entendres and saucy sexual encounters, Hampton's script is billed as an "an all-male exploration" by the Actors' Theatre of Washington, whose shrewd and intimate engagement offers up a gender-cleansing retelling of the dangerous game of sex, revenge, deceit, and the ultimate betrayal.
The politics of gender seem rather arbitrary — and even passé — in ATW's delicately carnal production, which features a surprisingly piquant cast of ten men directed by one woman. From her director's chair, Lee Mikeska Gardner re-imagines the tale of La Marquise de Merteuil and le Vicomte de Valmont in nearly androgynous terms, building a conundrum of intellectual power and physical domination to an already loaded story.
The premise is simple enough: Merteuil needs a favor of revenge from her former lover. But Valmont has already staked out his next conquest, a virginal lady he seeks to destroy with her own moral code. The jealous Marquise bets Valmont he can't win over the virtuous woman he wants, and for Valmont, it's a wager he can't possibly refuse. Let the cutthroat, erotic drama disrobe.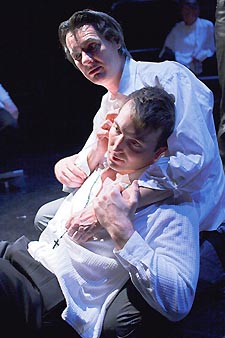 Cruel intentions: Klauss and Henley
(Photo by Ray Gniewek)
Gardner's Liaisons are more than rehearsed scenes that play out in chattering salons and wicked bed chambers — her scenes flow one to the next while the actors are always present on stage, blending into the background scenery as living, breathing portraits casting a disapproving scowl or a bemused, mischievous smirk upon the proceedings. There are a few dull passages that slither along, bland and nearly prostrate, but it's nothing that a little spontaneous nudity doesn't quickly reverse.
While most of the gratuitous nudity balances on the borderline of good taste, Gardner's lengthy nude-to-nude, body-to-body acrobatics are staged with a healthy dose of creativity, and one of the results is inarguably the most salacious and athletic letter-writing ceremony you can (legally) witness on stage.
Aside from an atrocious massacre of French enunciation, Gardner's cast produces realistic characterizations, and even those who must exude femininity — Peter Klaus, John C. Bailey, Ray Hagen, and an eternally amusing Brent Stansell — do so without resorting to camp interpretations.
Les Liaisons Dangereuses
To Sept. 4
$25-$30
800-494-8497
www.atwdc.org

But this is truly the Jeffrey Johnson and Christopher Henley Show, and the duo snaps with electricity and lecherous greed as the Marquise and the unwitting playtoy. With his wild mane of locks pushed back with a sensible headband, Johnson offers a chilly performance tinged by the proper rancor for his jaded manipulateur. Henley, as the "word's vilest pervert," is as endlessly intriguing as a snakehead fish, moving effortlessly from slippery, impatient waters to a carnivorous land beast, his posture suggesting a predator always ready to devour his victim whole.
Although Johnson's sound design and music is not always appropriate for the abrupt transitions between scenes, Les Liaisons Dangereuses is still a delicious mélange of respectable efforts and quite a bit of visible flesh. ATW has proven with their latest venture that even the classics can seem fresh again with a little bit of ingenuity and imagination.