In 1996 Bernadette Peters made her solo concert debut in New York City. Peters, 48 at the time, was well more than two decades into her career as a Broadway star, and for her debut she headlined a Carnegie Hall concert benefiting the pioneering HIV/AIDS organization, the Gay Men's Health Crisis.
It took another year for Angel Records to release a live recording from the concert. In its review, the All Music Guide said that the 1997 Grammy-nominated recording Sondheim, Etc. was a "triumphant debut worthy of an encore." Eight years later, Angel Records has finally released that intended encore, Sondheim, Etc., Etc., but surely much of the original audience has already gone home by now. And what of those who weren't part of the audience? Will anyone else care?
Probably. Peters, one of Broadway's best and brightest singers with a pliable, brassy voice, has arguably only gained in popularity since that 1996 concert. She won a Tony Award as Annie Oakley in the 1999 revival of Annie Get Your Gun, and gained further publicity for her starring turn in (and prolonged absence from) the much-ballyhooed 2003 revival of Gypsy.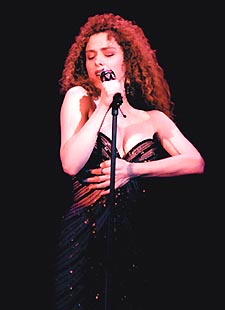 Broadway baby: Peters
But Sondheim, Etc., Etc. is a strange release, no two ways about it. It's not subtitled Live at Carnegie Hall: The Rest of It for nothing. The album is nothing more than outtakes from the first recording, the songs and stage banter left on the editing floor. That includes the evening's overture, its actual encore and, amazingly enough, its opening monologue from Peters, who naturally waxes ecstatic about performing for her very first headlining show at Carnegie Hall.
The new set is pure bait to a cynic, or someone churlish enough to suggest it's merely an attempt to gain quick, easy cash. Because, unlike the concert or the first recording, from which a portion of the proceeds went to GMHC, this follow up is not a benefit album for GMHC. It's not a benefit album whatsoever. It's beyond comprehension why Angel Records didn't repackage and re-release the original recording as a two-disc set that follows the actual concert, curtains up to curtains down. And there are no plans to do that, according to an Angel Records spokesman.
So why would Angel Records bother to release this encore? Because it wanted another album with Peters — her last for the label was released in 2002 — and Peters, instead of going to the trouble of compiling new material, apparently suggested they just slop this together as a first step. (A "new" project with Peters is in the works, according to the Angel Records spokesman.)
Give it to Mikey, the thinking obviously went — Mikey in this case being a nickname for all Peters and Sondheim fans — he'll eat it. And of course he will: It's a must-have for Mikey. Mikey should be aware that, despite the album's title, Sondheim contributes only one-third of the set list here. These are Sondheim signatures from Peters's subsequent concerts, however, including a masterful performance of A Little Night Music's "Later," one of Sondheim's most emotionally complex numbers. There's also the Sondheim ballad "(They Ask Me Why) I Believe In You," written for Peters for this very show. No other composer contributes more than one song apiece. Andrew Lloyd Webber contributes "Unexpected Song," a brilliant number drawn from Song & Dance that earned Peters a Tony.
For all that, and more — including Peters' wonderfully vivacious medley of "We're In the Money/Pennies from Heaven," sung partly in Pig Latin — Sondheim, Etc., Etc. is a slightly more festive hour of music than the first album.
The album ends with a yuletide encore of "Have Yourself A Merry Little Christmas," in which the predominantly male audience joins Peters in sing-along.
"Faithful friends who are dear to us, gather near to us once more," they sing, with obvious enthusiasm. At one point she tells them, "You sound really beautiful." And they do. Even nine years later.