"These words are my own," Natasha Bedingfield declares at the start of her debut album Unwritten. And the words Bedingfield claims? None other than the three most common words in pop music: "I love you."
"There's no other way to better say I love you," goes the chorus to Bedingfield's first single, "These Words," an initial sampling of the youthful exuberance and appealing confidence that the 22-year-old displays on her promising debut. Unwritten unveils a burgeoning pop talent, one who should only get better with age.
Natasha is the younger sister of Daniel Bedingfield, who found modest success a few years back with his debut Gotta Get Through This. Like Daniel, Natasha creates R&B-flavored pop-rock that holds universal appeal and fits very well into its particular moment in time. Where his album often recalled, and bettered, Justin Timberlake's Justified, hers matches up nicely to Kelly Clarkson's Breakaway.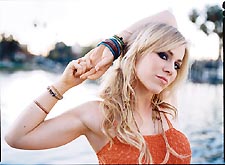 Risk taker: Bedingfield
Bedingfield's slightly coarse but rich voice coats deceptively simple pop songs. Revealing herself to be a witty, inspiring songwriter, she is a purveyor of beautiful, unapologetically optimistic anthems. The album's title track, for example, is one of the biggest pop anthems I've heard in a while, a song that ascends no fewer than three gradual peaks, each larger than the last. The two short verses are followed by a built-up bridge worthy of any normal song's ecstatic chorus. And then comes this ramped-up song's ramped-up chorus.
"Drench yourself in words unspoken/Live your life with arms wide open/Today is where your book begins/The rest is still unwritten," Bedingfield sings, with a small choir providing backup. That is, until the third and last cycle of the bridge and chorus, when a full choir blissfully drowns out the gentle acoustic guitar plucks and soft electronic drips and glimmers.
Bedingfield flashes her wit on the undeniable "Peace of Me," engaging in some homophonic playfulness between "peace" and "piece." And musically she plays with the dichotomy between peace and war, shifting from a sweet piano in the verses to angry electric guitar in the chorus.
She gets carried away on several occasions, as when betraying a barely post-adolescent immaturity. On "Wild Horses," she sings a cliché about taking chances and running with wild horses, and then overdoes even that sentiment with a clichéd musical bed of melodramatic balladry. On the hard-rocker "If You're Gonna Jump," she flies off the handle as she talks about living life at full speed without worry of the consequences. "If you're gonna be a singer, then you better be a rockstar," she sings, without conviction.
But Bedingfield is smart enough to know she'll only grow from taking risks. "We've been conditioned to not make mistakes, but I can't live that way," goes the second verse of "Unwritten." As such, when a debut is as strong as this, there's only one toast to make: Here's to more mistakes in her pop future.
Seven years after her debut, Esthero proves that mistakes will still happen. This Canadian artist, now 25, also proves that adolescent boasting doesn't always subside with age. Esthero comes out swinging on her second album, Wikked Lil' Grrrls. "I'm so sick and tired of the shit on the radio…. No matter where I go I see Ashanti in the video/I want something more," goes her "We R in Need of A Musical Revolution."
But Esthero doesn't sound as much like a musical revolutionary as you"d expect. In fact, she doesn't seem to focus enough on what she's revolting against. Is it against Ashanti? Well, of course it is — and despite that not being much of a feat, Esthero still creates several songs as bland and wispy as Ashanti's best tracks.
Is it a revolution against the typical state of today's hip-hop? That seems to be Esthero's intent. But the typical state of hip-hop has changed drastically in just the past year alone, so even her best efforts here are of a type that could find a home on today's increasingly diverse hip-hop radio.
So Esthero comes across as a bratty punk, something that pop music has enough of already, not the sophisticated provocateur that she intends to be. It's too bad that she doesn't focus her effort on creating more of the jazz-inflected pop that is her unique strength, a perfect base for her limber, seductive voice. Her mid-tempo horn-charged collaboration with Sean Lennon, "Everyday Is A Holiday (With You)," is a perfectly realized throwback to early Motown. And her title track is a high-stepping, zoot-suit, big-band special accented by modern sensibilities, which comes with a warning you can't help but ignore: "May cause ass to shake."
Too bad it's too easy to ignore the rest.