---
SEPTEMBER HIGHLIGHTS
THE PUSSYCAT DOLLS, responsible for one of summer's biggest hits ("Don't Cha"), are out to prove they're no one-trick kitties. And while the Las Vegas sextet's debut album PCD doesn't exactly prove that, it is surprisingly strong. The Dolls first appear to be positioned as the successors of Destiny's Child, and lead singer Nicole Scherzinger as the next Beyonce. But if it's not one hit formula, it's another. The second single, "Beep," sounds like a playful Black Eyed Peas track. And that's because it essentially is, courtesy of production and a rap from the Peas' Will.i.am. (Out now)
JAMIROQUAI has slowed down the disco funk that made him so popular a decade ago, seemingly growing less inspired by his patented brand of pop with each outing. Dynamite doesn't change things, unfortunately, even if it does start off with a bang, the Lenny Kravitz-esque "Feels Just Like It Should." If only the rest felt so good and groovy. (9/20)
BARBRA STREISAND has re-teamed with Bee Gee Barry Gibb for her first album of new material in six years. Guilty Pleasures comes 25 years after the first Streisand-Gibb collaboration, Guilty, one of her best-selling albums. As before, Guilty Pleasures features songs written by Gibb and performed either by both or just Streisand solo. The album will be packaged as a DualDisc, with a CD on one side and a DVD featuring recording and performance footage on the other. (9/27)
SHERYL CROW will release her fifth studio album, Wildflower, said to reflect her current blissful state of love and happiness. Lance Armstrong's new fiancé was artistically inspired this time out, which apparently was not the case in 2002, when Crow scored big, thanks to the hit "Soak Up the Sun." "I feel like my last album, C'mon, C'mon, was really about just trying to get a record finished," Crow told Rolling Stone. "Wildflower has been like a rebirth for me and my desire to want to make music again." (9/27)
TONI BRAXTON, after disappointing sales of her last set More Than A Woman, made like Mariah Carey, minus the public meltdown – after all, Braxton had already done that years prior, when she filed for bankruptcy at the peak of her multi-platinum success. Now three years after retreating from public view and suing her previous label, she's refreshed and ready to make a big splash all over again. Just like Mariah Carey? Well, there's certainly hope for Libra, based on pleasing first single "Please." (9/27)
CALLA is a New York band by way of Texas creating epic, rockabilly pop music that you might say is Wilco by way of U2. Describing itself as the "loudest quiet" rock band, CALLA's latest, Collisions, finds the band's three members making densely packed, humid and brooding music, that only gradually builds and never goes over the top. CALLA, who will perform at the Black Cat on the 5th, could become your new favorite indie-rock band. (9/27)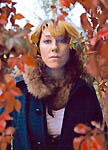 Martha Wainwright
Also this month: SIMPLE MINDS returns with a new studio album, Black and White 050505, supposedly a return to the dramatic, new-wave pop sound that made them famous — remember "Don't You (Forget About Me)"? MARTHA WAINWRIGHT, Rufus' sassy sister, appears at Lisner Auditorium (9/24), performing in support of her captivating self-titled set released earlier this year. She's opening for MADELEINE PEYROUX, who weaves together strands of acoustic blues, country ballads, torch songs and pop. Meanwhile, the Black Cat plays host to at least two bands that deserve wider attention: 13TH & GOD (9/21) and ORANGER (9/26). 13th & God is an unlikely, genre-bending collaboration between a California-based avant-garde hip-hop group and a German-based techno-rock band that, even more unlikely, creates music as entertaining as it is wholly original — look for its self-titled set out now. Oranger's cleverly titled new album New Comes and Goes (9/20) proves that quality rock music can be both new and old at the same time.
---
OCTOBER HIGHLIGHTS
ANDY BELL turns in his first solo album after two decades of work with Vince Clarke in Erasure. Bell has not abandoned Erasure, which just toured and released its latest album Nightbird, one of its best, earlier this year. And Bell has not abandoned the duo's distinctive synth-pop sound. In fact, he's magnified it on Electric Blue, which is dancier, and edgier, music than we've heard from Bell in a decade. You couldn't imagine a better solo set to come from Bell. Jake Shears of the Scissor Sisters is a notable duet partner on the album. (10/4)
LINDA EDER, the popular interpreter of showtunes and pop standards, has taken on perhaps her biggest challenge yet with By Myself: The Songs of Judy Garland. There comes a point as you listen when you'll stop thinking about how much Eder, a clear-voiced Minnesotan, sounds like Garland, the late, great clear-voice Minnesotan. At that point, you'll instead start thinking about how great Eder sounds in her own right. And you'll be convinced of that well before she gets to "Over the Rainbow." (10/4)
SINEAD O'CONNOR just couldn't stay away from the music business. After only a two-year "retirement," she's back with Throw Down Your Arms, an album of reggae covers recorded in Jamaica. Naturally, many of these are said to be protest songs, and her aim in recording them was to "carry the message of Rastafarai to some who might otherwise not know that God and religion are two very different things." (10/4)
DOLLY PARTON will release her latest album, Those Were The Days, a promising collection of bluegrass-tinged covers of pop songs from the 1960s and 1970s. Many of these carry some political charge, from "Blowin' In the Wind" to "Turn, Turn, Turn" to "Imagine." Parton invited some of the original musicians as well as many contemporary chart-toppers to sing alongside her, including Norah Jones, Nickel Creek, Judy Collins and Alison Krauss. (10/11)
LINDA PERRY is one of today's leading pop producers, but she still craves the spotlight for herself. So now she's re-releasing her decade-old solo debut, In Flight, in the hopes that it'll finally gain her some artistic traction. It's a sophisticated, slow-burning rock set that does, as its publicity takes pains to point out, grow on you with each listen. But it never really sticks. It's not very similar to the sunburst sound of her first band 4 Non Blondes ("What's Up?") and it's even less similar to her subsequent peppy pop production work with Pink, Christina Aguilera or Gwen Stefani. (10/11)
RICKY MARTIN, like the Pussycat Dolls, has worked with the Black Eyed Peas for his new album, Life, so we should expect some monkey business. Actually, we should hope for some — the first single "I Don't Care" is too whiny and too serious by half. But Martin is also said to have worked with the Matrix, Avril Lavigne's producers, so he may get too angry instead. In any event, he'll probably be too "straight" for comfort. (10/11)
DEPECHE MODE unveils Playing the Angel, their first album in four years and supposedly a return to the Depeche Mode sound of yore. Song titles suggest there will be perverse pleasure to be treasured, from "A Pain That I'm Used To" to "Suffer Well" to the gorgeous first single "Precious." And more good news: The band will stop at the Patriot Center on the 9th. (10/18)
ROBBIE WILLIAMS will release his sixth solo album, Intensive Care — but unless something changes, you'll have to pony up for an import to get it. After a major U.S. promotional push for his last set, 2003's Escapology, went bust, Billboard reports that the label for one of Europe's biggest hitmakers may not even bother this time around. It's too bad for so many reasons, but especially for this: "Tripping" is a lightly barbed and slightly dazed delight that would sound great on the radio. (10/24, everywhere but here)
LISA SHAW has released a couple singles through the chillout/R&B-focused indie label Naked Music. And now, like Naked's Gaelle Addison before her, she's ready for her full-length debut. While not as compelling as Gaelle's Transient last year, Lisa Shaw is an appealing album that frequently finds the singer-songwriter floating light, airy melodies and soft vocals over deep, plunging bass lines. The album's soft-serve sonics are suited for loud play in a swanky hotel lounge. (10/25)
Also this month: The BOB MOULD BAND plays to a hometown crowd at the 9:30 Club (10/7), performing songs from throughout rock icon Mould's career, including his fantastic dance-rock set Body of Song, released this past summer. The band includes Richard Morel, ex-Fugazi drummer Brendan Canty and Jason Narducy. Fans of U.K. synth-pop should save money for FRANZ FERDINAND's second set and LADYTRON's third. You Could Have It So Much BetterÂ…with Franz Ferdinand is said to be similar to, but more rhythmically adventurous than, the new-wave inspired band's successful debut. Ladytron's Witching Hour promises to be more musically diverse than the co-ed quartet's previous two albums, which have earned it a cult following.
---
NOVEMBER HIGHLIGHTS
KATE BUSH will return from a 12-year recording hibernation to unleash the double-disc Aerial. Though the indie-rock belter never had as much success stateside as in her native U.K., Bush had clear influence on Tori Amos, PJ Harvey and Bjork, among others. The anticipation to hear what Bush has cooked up all these years later is killer. (11/8)
A DAY IN BLACK & WHITE is a new D.C. band whose debut Notes is nearly as raucous and rollicking a 35-minute set as previous contributions from Fugazi and other bands from D.C.'s short-lived post-punk scene. It also tries to be more melodic and less angry, or closer to the non-D.C. sound of post-punk today. (11/8)
MADONNA has moved on from Mirwais to work with Grammy-winning dance producer Stuart Price (a.k.a. Jacques Lu Cont) for her 10th studio album, Confessions On A Dancefloor. It's said to be a total return to her dance roots. And to help ensure it succeeds, it has even been club-tested: Price played potential tracks, minus Esther's vocals, for his crowds at DJ gigs around London. (11/15)
Also this month: MARY J. BLIGE will release her seventh studio set The Breakthrough, which is said to follow the same successful template as her past sets and features production from nearly every top producer in hip-hop except Timbaland and Outkast. Speaking of OUTKAST, that duo expects to release the soundtrack to its debut film, tentatively titled My Life in Idlewild. It is said to feature ragtime-inflected hip hop, reflecting the 1930s setting of the film, which should hit theaters in January. And veteran, Pennsylvania-based modern-rock band LIVE will release Songs from Black Mountain, led by first single "The River."