A rarely-staged tale of political and emotional rebellion, I Vespri Siciliani should be an operatic tour de force. Verdi takes us to one emotional crescendo after another, some writ large, such as the degradations of living at the whim of an occupying army, others deeply intimate, as in the heartbreak of personal betrayal and forbidden love. By its very nature, the production must be ambitious and highly cogent, making violent crowd-driven events, the dynamics of quiet pathos, and the horror of impending execution believable.
Though director Paolo Micciche sees his target, his arrow just misses the bull's-eye. To be sure, there are some brilliant and captivating moments in the Washington National Opera's season opener, such as the minimally staged duets and trios. But other moments are undercooked and awkward, as when the heroine celebrates her impending nuptials with the village women. She may have meant to appear troubled, but she simply looked lost. Several times, when French soldiers are supposed to be seizing rebelling villagers, they take their quarry like they're picking partners for a square-dance. In the finale, when the chorus is finally freed to show some real energy, they rush the audience — a puzzling choice since it is the French soldiers behind them who spent the previous three hours repressing them: Was it something we said? The inevitable result of these missteps is that we must use up too much energy trying to keep the faith.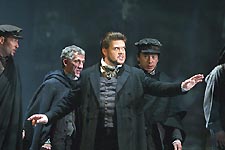 French frying: Kowaljow
(Photo by Karin Cooper)
Still, the performers must be given credit for prevailing over the conceptual shortcomings. Mention must go first to bass Vitalij Kowaljow who sings Giovanni da Procida, a Sicilian returning from exile determined to oust the French from his island at all costs. Kowaljow has an extraordinary voice, an immensely flexible instrument of gorgeously smooth soul and seamless technique. Kowaljow is also a significant stage presence, giving the kind role that often becomes furniture an ongoing emotional power. Dues must go to Director Micciche for recognizing Kowaljow's gifts and keeping him where he can shine.
Soprano Maria Guleghina as Elena, the brave lady ever loyal to Sicily but destined for personal heartbreak, has a prodigious task. The role requires a soprano who can ride a long and arduous vocal and dramatic roller-coaster, who must go from rallying her village against the occupiers to sharing deeply intimate vocal moments with her love-interest and then do it all over again several times for the next three hours. Guleghina is well up to the job, her deep, rich soprano carrying the emotional punch of this opera beautifully. She's is also a superb actor, using her eyes like lasers as she watches her world fall apart amid her struggle to find strength for herself and others. Overall, Guleghina is a marvel, though the demands of the part do bring out the odd moment of vocal strain.
I Vespri Siciliani
Sept. 22, 25, 28
Oct. 1 and 4
Kennedy Center
Opera House
202-295-2400
www.dc-opera.org

The other main leads, tenor Franco Farina as Elena's love-interest Arrigo and baritone Lado Ataneli as the French governor, also give very strong and carefully crafted performances. Farina is a robust tenor but still capable of subtlety. Oddly, he is more pleasurable to hear with eyes shut (the dimensions of Farina's acting do not quite match those of his voice). Ataneli is just the opposite. While his acting was quite subtle and under-stated for such a stock role, his singing is slightly less expressive than it might be.
In keeping with the trend, designer Antonio Mastromattei relies on projected imagery along with traditional scenery. We are treated to a thoughtful series of paintings relevant to the era and the action. The problem is, while we are absorbing the profundity of a beautifully rendered hand or face, we are missing the drama below. Alternating with the images are huge, real frames that slide onto and around the stage and in which the actors move. Though intrinsically appealing, neither add much to this plot-heavy and amply choreographed opera.
Placido Domingo conducts thoughtfully and passionately, although the reins could be tighter at times. This season opener may not bring down the house, but it's a chance to start the season with some great voices ringing in your ears.