Congratulate Charlize Theron. She's got the Hollywood game figured out. And she's playing it like a pro, mixing the glamorous roles with the serious. You can catch one of the glamorous roles later this winter when Theron plays an assassin in Aeon Flux, a sci-fi action thriller based on an anime hit. But right now, she can be seen in full-on serious actress mode in North Country, a weighty, involving drama inspired by a landmark 1984 class action sexual harassment suit against a Minnesota iron mine.
Despite what you may believe — and what the movie's posters imply — Theron isn't playing ugly and drab. To the contrary, her Josey Aimes, a single mother who takes a job at an iron mine to support her two kids, has a natural, earthen beauty.
Josie's looks are neither a help nor a hindrance at the mines — the men there are equal-opportunity chauvinist pigs, resentful over the forced inclusion of women in their environment. She and her female co-workers endure all manner of abuse, from name-calling and obscene practical jokes to far, far worse. The men regard the working girls among them with slow-burn derision and extreme bitterness.
"Some things are for men, some things are for women," says the mine's owner, Don Pearson (James Cada). "Mining is men's work."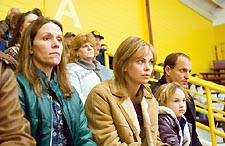 Girl's fight: McDormand and Theron
It's certainly dangerous work. But the women who toil at Pearson Iron take their jobs seriously, and do them well — a fact lost on the majority of their male co-workers.
Josie gets fed up quickly with the situation and courageously takes a stand. "You don't gotta come into work scared that one of these days you're gonna be raped," she tells her father, Hank (Richard Jenkins), a lifelong miner. She takes her grievances to Pearson himself, in the process making things worse for all the women. It's not until a harrowing incident with a superior named Bobby Sharp (Jeremy Renner), a former high school flame, that Josie decides enough is enough and sues the company.
Since the outcome of the case well-known, director Niki Caro (Whale Rider) focuses her energies on the human elements surrounding it, particularly Josie's relationships with her sullen teenage son, Sammy (terrific Thomas Curtis) and Hank, who is so shamed by his daughter's choice to work at the mines he can barely look at her.
Hank undergoes a major turnaround — the first of two dramatic payoffs — during a union meeting in which Josie is verbally bludgeoned by the fellow members. For all its issue-related fist pumping, the movie is suffused with the tender and heartwarming story of a man coming to terms with the love for his only daughter. Caro evokes it richly, and Jenkins plays it masterfully.
North Country has a lovely eloquence to it — it's not the same kind of rouser as Norma Rae or Erin Brokovitch — but it possesses similar elements and uses them when needed, including a stirring "magic courtroom moment" near the end that is quietly, brilliantly achieved (the movie's second dramatic payoff).
Frances McDormand is in feisty mode as Glory, a friend and coworker of Josie's who also serves as the women miner's union rep. Woody Harrelson is understated as Bill White, the local laywer who takes up Josie's cause. Caro shrewdly intersperses Harrelson's courtroom moments throughout the film, deploying them as a framing devices for the narrative, rather than in a single extended final surge. The grandstanding is also kept to a minimum, so that when Harrelson's character finally has his moment to explode, it carries impact.
It's Theron, however, who makes the most impact. Her grounded, plain-spoken portrayal of Josie gives North Country its soul. And while she may not be glamming it up, she nevertheless draws us in, attracting our attention like a magnet.