In the beginning there is a woman. She is carrying a bottle filled with sand from some distant shore tied to some legendary land. As she leisurely begins to divulge all the secrets and details from assorted stories that make up her life as she currently knows it, there is a sudden transformation from now to then, and according to Canadian playwright Daniel MacIvor, that's all we need to know. Because in his quiet and comforting You Are Here, it isn't the destination that matters so much as all of the risky detours and unscheduled rest stops that ultimately make the journey worthwhile.
Intentionally vague and lacking any sort of pretense, MacIvor's intelligent script, with its jagged, zigzag narrative and non-linear plotline, resists convention with an impolite introduction to Alison, an eloquent and intensely literate woman stuck in the middle of her life. She's here to tell us her story, at this undisclosed place at an undisclosed time, and just as she begins to reflect on some of her long-time friends and lovers, those colorful characters begin to appear without preface. Before we know it, Alison is swept away by the ghosts of her past, and in a swirling kaleidoscope of memory and reality, MacIvor's tale spins a universal metaphor on the intimate education we all receive from lessons of the past.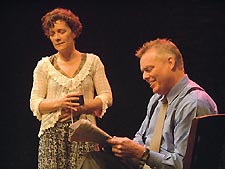 Personalized everywoman: Mendenhall with Tim Carlin
(Photo by Colin Hovde)
The details of Alison's life seem nearly arbitrary — she's a journalist for the tattle-tale Very magazine, the wife of a psychologist buddy from college, and the producer of her husband's terrible screenplay — since the message is one of abstract familiarity. MacIvor's angle is that his protagonist is no stranger to heartbreak and ennui, curiosity and fear. Just like the rest of us, she subtracts her losses and magnifies her gains, fights with friends and smiles at enemies. She's a personalized Everywoman, and as performed by Jennifer Mendenhall, she's very, very gratifying.
It's easy to identify with Mendenhall's earthy Alison, even as her petite figure patters across the stage in a rush of adrenaline. She is anything but delicate, a resolute woman who is determined to smooth out the wrinkles in her past and make peace with her future. As Mendenhall habitually pops in and out of American and British dialects, her Alison is hard to pin down to a specific location or era, which proves almost as fascinating as it is distracting.
Directed by Gregg Henry, the evening is a well-orchestrated dream featuring a host of memorable performances. In one of the best roles he's tackled in quite some time, Michael Russotto unravels all of his comic threads as Richard, Alison's college roommate and best friend. He's fantastic as the slack-jawed stoner with an aching heart. Kathleen Coons turns in another fine performance as Diane Drake, a glam-head Hollywood starlet who nonchalantly admits, "I'm not an artist, I'm an actress." Two other bright spots: Annie Houston and Alexander Strain as the snooty publisher of Very and her snide young gigolo.
As MacIvor carefully examines the rhythms of decision and regret, You Are Here offers a surreal intellectual jaunt that subtly fuses together the reality of the present with lingering memories from the past.
---
It's the last place anyone wants to be, and yet it's exactly where we're stuck in Jean-Paul Sartre's existential classic No Exit. "Hell is just other people," exclaims Cradeau. And in Scena Theatre's loopy, surprisingly shallow presentation, that revelation is tested to its outermost limits.
It has nothing to do with Melanie Clark's odd little set, since the Warehouse Theatre's cramped one-room space is ideal for this kind of claustrophobic nightmare. And although Paul Bowles' English translation has always been a crass, rather crooked interpretation that flaunts its various shades of homophobia, Scena artistic director Robert McNamara tempers No Exit's Sartrean philosophy with something a bit more eclectic in a weird balance of creepy humor and acting that shamelessly indulges in bland caricature.
McNamara seems to take a whimsical approach to Sartre's bleak allegory, a tale of three strangers who find themselves trapped in one small room for eternity. It was originally Sartre's burning commentary on Nazi-occupied Paris during the second world war, but here it bears the imagination of a teenager who has watched films like Fatal Attraction or Basic Instinct one too many times.
Elle Wilhite is the Glenn Close stand-in as Inez Serrano, the lesbian who declares, "I was one of those women, so this [eternal damnation] is no big surprise." Among a trio of perfunctory performances, Wilhite swiftly renders Inez an aggressive quack, shuddering with lunacy as she whispers her lines for extra dramatic punch. Regen Wilson leads the unintentional farce with his apathetic version of Cradeau, a truly despicable wretch who has earned his own divan in hell, and Maura Stadem's Estelle is a melodramatic, self-absorbed brat who searches eternity for a mirror.
The only interesting wit is delivered in stealth by Robert Rector's servant of Hell, a Willy Wonka prototype (of the Gene Wilder variety, not Johnny Depp) who harbors a fluffy feather duster in his belt. All of Sartre's strange, uncomfortable backchat lends itself to pithy observations of moral and ethical consequence, but McNamara's pale production ultimately lacks enough conviction to make anyone ponder such weighty, timeless affairs.