Like the Cosmos Club and the Senate filibuster, Kramerbooks & Afterwords is a veritable Washington institution. For nearly 30 years, this locally owned and operated bookstore/café has been a mainstay of life in Dupont Circle.
"Kramerbooks and Afterwords is one of the last bastions of uniqueness even in Dupont Circle," says Advertising Manager Elizabeth Stewart. "It rages against homogeneity and battles against the encroaching chains."
As Starbucks and Potbellys proliferate, Kramerbooks sticks to its local roots, providing a sanctuary for urban hipsters, intellectuals, scene queens and those just generally too cool for school.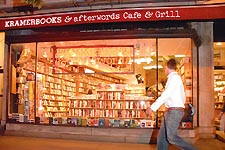 Kramerbooks
Strolling down Connecticut Avenue, it's impossible not to notice the warm, inviting shop through its huge windows. Always packed with serious browsers, Kramerbooks features row upon row of timely, yet often quirky, titles. In an era of junky mass-market novels, Kramerbooks is the art-house bookstore carrying works of interest to discriminating readers.
Of course, buying books is just the first part of the Kramerbooks experience, Stewart says. Part of the city's love affair with Kramerbooks includes a trip to Afterwords, the café in the back. The award-winning restaurant is ideal for great eats, people watching, and long, lazy nights gabbing with friends.
Open seven days a week and all night on Friday and Saturday, Afterwords is stylish, funky and comfortable, Stewart adds, with a menu boasting "something for everybody and everything for somebody," including small plates, big plates, vegetarian dishes and yummy desserts.
One of the most famous features: Death by Chocolate, a flourless chocolate cake iced with ganache, set on a raspberry puree and dark chocolate with a side of unsweetened fresh whipped cream.
Brunch is always mobbed, Stewart says, featuring the café's own house-baked breads, cured smoked salmon and Bloody Marys or mimosas.
TThe Neighborhood Pages
Featuring:


Dupont Circle

  · 
The Circle at the Center


Dupont Circle remains the grande dame of gay neighborhoods, a welcoming oasis for both residents and visitors

  · 
Keeping a Flame


A visit to the Candleman can create a cozy, personal environment

  · 
Body and Soul


Finding a workout that works your muscles and relaxes your mind at D.C. Yoga

  · 
No Fiddling Around


Every head gets the special treatment at Fiddleheads salon

  · 
Smart Dishes


Kramerbooks and Afterwords maintain Dupont's neighborhood tradition of smart reads, good eats and great times
Patrons should be prepared for a wait on weekend nights. Not to fear though. Unlike most restaurants, the "great advantage of having a bookstore is you can always wait for a table," Stewart says, adding that most diners in queue browse the bookstore, listen to live music or go to the bar for a drink.
An early backer of gay rights, Kramerbooks has been a favorite of queer patrons since its opening. Indeed, one of the first gay marriage announcements in the New York Times featured a couple who had their first date at Kramerbooks.
As far as Washington institutions go, Kramerbooks may be unique: It's got roots but it's not stuffy. Along with character, it's got a "sense of place." No doubt it will continue to occupy that place for years to come.
Kramerbooks & Afterwords Café & Grill, 1517 Connecticut Ave. NW, 202-347-1400 (bookstore), 202-387-3825 (café), www.kramers.com.