As the D.C. metro area constantly evolves, GLBT pioneers continue to plant those telltale rainbow flags in all corners, from blossoming Del Ray in Virginia, to Glenmont in Maryland. The grand dame of gay neighborhoods, however, remains Dupont Circle, still Ground Zero of the Washington gay experience.
Much of Dupont's anchor-like character undeniably belongs to Lambda Rising (1625 Connecticut Ave. NW, 202-462-6969, www.lambdarising.com). This gay bookstore has stood as a gay outpost one block north of the circle for 21 years, and has occupied one Dupont address or another for more than 30.
"When we started in 1974 [on 20th Street NW], we were proud to advertise that we had over 250 titles in stock. Now it's like 20,000," recalls owner Deacon Maccubbin. "We had our window smashed in the early days. There were bomb threats. There was no other store in this neighborhood at that time strictly focused on serving the gay community. I do think we made it gay. It's been the cultural epicenter of the gay community."
Lambda Rising has come a long way since the days of smashed windows. A typical day may find Maccubbin scouring the globe for some gay-related title he may have missed.
"We have more gay and lesbian magazines than any other company in the world. Nobody carries more. Period," Maccubbin says with confidence. "The past two days, I've been trying to find magazines we don't have. I think I found four titles we didn't have. They were in Japan."
Maccubbin says he's just as thorough when it comes to books. And adding to the cultural mix, Lambda Rising often hosts the writers of those same books with near-weekly readings. A 1996 reading by gay Olympic diver Greg Louganis from his book, Breaking the Surface, actually drew crowds that lined up for several blocks, hours in advance of Louganis's arrival, Maccubbin recalls.
Lambda Rising
That's not to say that this bookstore covers its bases solely with printed matter. "We really want people to understand we have such a broad scope of GLBT items," Maccubbin promises. "You'll find things here you'll never find online. One of the hot items currently is Tom of Finland accessories. There's a whole line of bedding, boxers, glassware. We've got pretty much anything you can put a rainbow on, and we carry more lube than you can possibly use."
Still, it's fair to say that books are at the heart of Lambda Rising. "People here talk about what they're reading and what they've learned," Maccubbin explains. "There is conversation here. That interaction is really important. It's really special."
While Lambda Rising is the solid old stalwart of Dupont Circle, the neighborhood has witnessed a steady flow of newcomers. Not all of the new faces in Dupont represent the gay community specifically. Nevertheless, merchants in this chic enclave do find common ground easily in a commitment to quality.
"It might take a little bit longer, but you're going to get a better pie," promises Jillian De Souza, who with husband Alberto, runs the namesake Alberto's Pizza (2010 P St. NW, 202-986-2121, www.albertospizzeria.com). "There are many good pizzas out there, but ours is different. It's unique."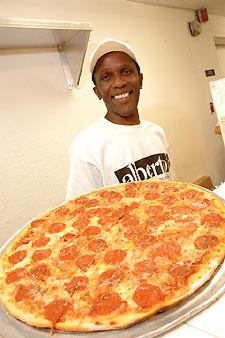 Alberto's pepperoni pizza
The De Souzas's journey to the humble pizza oven began with Alberto's impressive culinary history. From his formal training at Chicago's Washburne Culinary Institute and an interest in French cooking, Alberto eventually found his way to running the kitchen at the former Sofitel Washington as the luxury hotel's executive chef. Jillian De Souza says that the demands of both their jobs, hers being in retail, led the couple to create a restaurant of their own. They launched their first pizzeria in the Logan Circle neighborhood before moving to Dupont about five years ago.
"We both love pizza, so it just made sense," explains Jillian De Souza. "And we wanted a lot more traffic at the time. We knew Logan Circle was up and coming, but we still wanted to be over in Dupont. It's great. We love it here."
And devoted customers love Alberto's unique pizzas, ranging from delightfully crisp, third-of-an-inch thin crust, to glorious pan pizzas — "not from Chicago, but just as good" — to the indulgent, stuffed Chicago pie. While Alberto creatively offers crusts in honey, wheat or garlic, as well as his traditional crust, his list of toppings is a nightmare for the indecisive, but a dream for the gourmand. How about pesto and goat cheese? Shrimp and capers? Even the more pedestrian offerings like pepperoni manage to sing in Alberto's kitchen.
"The seasonings, the taste, the presentation, he's incorporated all of that," Jillian De Souza observes.
An Alberto's pizza is worth the wait, but that doesn't mean busy Washingtonians have to. Taking advantage of Alberto's free delivery, customers can order ahead, knowing that their custom order will be delivered right when they want it. After all, Jillian De Souza offers as much attention to customer service as Alberto does to his pizza.
"We really have enjoyed our customers," she says. "We realize that everyone has a choice, and we really appreciate everybody's support."
Just down P Street from Alberto's, bordering the edge of the Dupont neighborhood, Helene Bloom's Soho Tea & Coffee (2150 P St. NW, 202-463-SOHO) has been serving appetites less in the mood for pizza, and more in the mood for a cappuccino, for a decade. Her partner, Fran Levine, has been along for the ride since 1999, making it clear that the De Souzas are not the only couple laboring in love in Dupont.
The Neighborhood Pages
Featuring:


Dupont Circle

  · 
The Circle at the Center


Dupont Circle remains the grande dame of gay neighborhoods, a welcoming oasis for both residents and visitors

  · 
Keeping a Flame


A visit to the Candleman can create a cozy, personal environment

  · 
Body and Soul


Finding a workout that works your muscles and relaxes your mind at D.C. Yoga

  · 
No Fiddling Around


Every head gets the special treatment at Fiddleheads salon

  · 
Smart Dishes


Kramerbooks and Afterwords maintain Dupont's neighborhood tradition of smart reads, good eats and great times
"It's a real community coffeehouse," Bloom says with pride. "We pay a lot of attention to detail. We're very non-corporate. It's just a whole different environment."
That environment includes an outdoor patio, a mix of university students, tourists and neighborhood residents, and open-mike nights. It's a mix about as eclectic as the menu, certainly not limited to coffee — thought the coffee offerings are abundant. There may be a tea for every coffee. Then there's the food that starts with the breakfast dishes and danishes, moving through the day into sandwiches, soups or pasta. Be sure to leave room for dessert, be it cheesecake, pastry or a root-beer float. These, of course, are just hints of a menu too exhaustive to list.
A laundry list of offerings is also the order of the day at the other end of the Dupont neighborhood at Housewares (1627 17th St. NW, 202-745-3538). This one-stop shop is stocked to the ceilings with blenders, birthday cards and buckets, among other items.
"We always get people commenting on how we pack so much into such a tiny space," says manager Grady Crittendon. "We've got a little bit of something for everyone."
The commodity of which Crittendon may be most proud is not on the shelves, though. "We actually give personal customer service," he says. "We greet people and ask if we can help you find something. Housewares customers don't walk out frustrated."
Customer service is a prime motivator for Realtor Ken Plonsky (1606 17th St. NW, 202-441-2808, kenplonsky.isanexpert.com) as well. He's been helping clients buy and sell in the Dupont neighborhood for more than three years, and lived in the neighborhood himself for eight.
"I'm with my clients for the duration," Plonsky promises. "I'll work at their pace. I'll do a good job for them." And if he can't, insists Plonsky's signature line, "no bunny can."
With all that continues to evolve in the Dupont area, the best way to ensure you don't miss any of it is by making a trip to Dupont Optical (1615 17th St. NW, 2nd Floor, 202-483-9440, www.dupontoptical.com). "We add style to your life," guarantees owner Ben Herman, pointing to his extensive selection of fashionable, state-of-the-art designer frames. "And we offer fantastic follow-up care. We have an exceptional optometrist."