Dolly Parton is a consummate marketer of contemporary music, and one of its most cutting-edge. She combined country-pop a decade before country-pop was cool, and then she did somewhat the same thing several years ago in helping revive the music of her roots, bluegrass.
Yet she has never made a stink about her trend-setting nature, and she's allowed her showy style and augmented features to take public prominence over her songwriting gifts. As savvy at marketing as she is, Parton has so far failed to garner the recognition she deserves as one of the most talented musicians working in pop music today.
Unfortunately, and perhaps predictably, she may not turn things around with her new album Those Were The Days, one of the best of her career. But the full manner of what she has achieved here is often too easy to overlook or dismiss, in part because Parton herself minimizes her achievements. For the album, Parton merely covers pop hits from the politically charged '60s and '70s. It sounds less like a noteworthy development than a quick and easy way to churn out another album. But while every cover remains true to its original pop sensibility, Parton has managed to generously and studiously season each track with rich, warm bluegrass so adroitly that they will appeal to as wide an audience as possible, even those who wouldn't naturally consider themselves fans of bluegrass.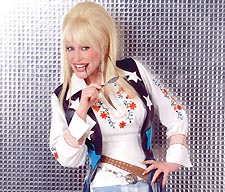 Parton enlists many of the song's original singers and writers to either sing harmony or play guitar, from Kris Kristofferson to Cat Stevens to The Byrds' Roger McGuinn. Working with such legends, on their own legendary standards, puts Parton at further risk of minimizing her significant contributions to re-imagining these songs. Her cover of The Byrds' classic "Turn, Turn, Turn," for example, is only subtly altered. But by slowing it down ever so slightly, making it more organic in sound and coloring it with a more soberly optimistic vibe than the relatively bright original, Parton appropriately ages the song, splashing it with a dose or two of realism.
Taken as a whole, Parton's goal in compiling the 12 covers here for this album becomes obvious, even if it goes without being explicitly stated anywhere. These aren't just her favorite songs from a previous era. They're her favorite songs from an era that parallels our own politically troubled times. Only four of the 12 songs here are non-threatening, upbeat love songs, and nearly half of the 12 are critical of international overreach in practicing war. "We'd live the life we'd choose/We'd fight and never lose/For we were young and sure to have our way," goes part of the chorus to the album's deceptively festive title track. The track begins with the clanking of glasses and noise of laughter in a tavern, but it goes on to describe an arrogant, affluent era since passed. It may sound like a light-hearted drinking song, but it's not quite the ode to a golden-oldie time as it first appears.
"The cruel war is raging, Johnny has to fight/I want to be with him from morning to night/I want to be with him, it grieves my heart so," Parton sings on the Peter, Paul & Mary popularized "The Cruel War." It is one of several songs here seemingly chosen to offer comfort in solidarity to today's military spouses, left behind to worry. Yet Parton makes no explicit appeal to these spouses. Could it be because she'd rather not risk offending the more vocal support-the-troops-by-saying-nary-a-critical-word military lobby?
So while Parton may leave intact the original political provocations of these tracks, all selected obviously because they still carry import today, she is disinclined to use them to engage today's political debate. Parton presents her re-imaginings with as little discussion as possible, whether in the album packaging or in advance publicity and press interviews, about just how political and politically liberal the majority of them are.
It may make sense from a marketing perspective in today's conservative climate to minimize the controversy contained in these antiwar-era songs, in particular to best appeal to the predominantly conservative-minded country music fan base. And maybe a non-Dixie Chicks-style subtlety will result in more album sales and more long-term artistic recognition for Parton, as well as more debate, not less, about our current political leaders' priorities, among other Parton concerns.
But it seems more likely that Parton's efforts will continue to draw the public's attention mostly to her physical self, not her musical one. And in any case, it's a little disappointing to see Parton so uncharacteristically understated about her purposes with the album.