"I love magic," beams Harry Potter (Daniel Radcliffe) at the start of Harry Potter and the Goblet of Fire. By the movie's end, however, Harry may change his mind, as his personal world — and the world at Hogwarts, the academy of magic and wizardry he attends — has been upended by the reincarnation of he who shall not be named, i.e. evil Lord Voldemort (Ralph Fiennes).
The fourth in a series of movies based on the wildly popular books by J.K. Rowling, this is the first Potter film directed by a Brit — Mike Newell (Four Weddings and a Funeral), who turns out to be a perfect choice to usher the Potters into their adolescent phase. Without ever losing sight of what makes a Potter film truly magical, Newell supplies an aura of genuine dramatic gravity. The intensity is upped, evident by the PG-13 rating, and a terrible darkness looms over the narrative as it slithers toward a powerful, gripping climax.
For the scant handful of you who haven't yet seen it — the movie made $101 million in its opening weekend — Harry Potter and the Goblet of Fire unfolds during the boy wizard's fourth year at Hogwarts. Now 14, Harry must contend with being an unwilling part of a Tri-Wizard Tournament being hosted by the school, as well as grapple with his emerging interest in the opposite sex. The harsh reality of teenaged life is typified in the movie's Yule Ball sequence, as Harry's friends Ron Weasley (Rupert Grint) and Hermione Granger (Emma Watson) contend with the awkwardness of their true feelings for one another. Watson is radiant — she needs to be, as she has few other opportunities to shine in the movie — and for the first time, you sense the emergence of a truly fine actress. Grint, too, has several strong moments. But the film is mainly about Harry's struggle to compete in a contest for which he's supremely under-qualified. Luckily, he has some help from a new mentor: Alastor "MadEye" Moody (Brendan Gleeson, in a spectacular turn), a defense against the dark arts professor outfitted with an hyperactive glass eye that is simultaneously whimsical and gruesome.
Because of the presence of Voldemort, the movie carries more potency than previous installments. Fiennes turns out to be an outstanding choice, though his screen time is limited. Even saddled with a ton of latex makeup, the malevolence Fiennes brings to Voldemort is chilling. His performance is almost as terrifying as his stint as the serial killer in Red Dragon.
For sheer narrative dazzle, I still prefer the mechanics of the last film, Harry Potter and the Prisoner of Azkaban, directed by Alfonzo Cuaron. With its tricky time-traveling plot device, Cuaron had a major challenge to solve, and did so nimbly. Newell only needs to follow a straight path — but the task is still mammoth, as he's obliged to create some of the biggest set pieces in the series, including Harry's breathtaking brawl with a fire-breathing dragon and underwater skirmish with sharp-toothed mermaids.
The movie is long — two and a half hours — but probably not long enough for devoted fans of the book. Several subplots have been excised from the material — and justifiably so: the plight of the house elves might be fine for a 700-plus page novel, but who among us really needs a five-hour "Potterthon."
Radcliffe has improved dramatically as an actor (evident in the encounter with Voldemort) and has gained better mastery over the lighter aspects of the role. He's got an especially funny moment with the wailing ghost Moaning Myrtle (Shirley Henderson, reprising her role from Chamber of Secrets). As previously mentioned, Grint and Watson have less to do this go-around other than cheerlead for Harry. Oddly enough, however, James and Oliver Phelps, who portray Ron Weasley's rascally twin brothers, are given expanded parts, providing much-needed comic relief from the increased intensity.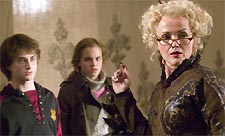 Richardson (right)
Miranda Richardson is vastly entertaining as Rita Skeeter, a gossip columnist for the Daily Prophet, but Gary Oldman's Sirius Black is relegated to little more than a special effect (he appears as CGI embers in fireplace). Alan Rickman's authoritarian Professor Snape and Maggie Smith's overly-protective Professor McGonagall both return with fine isolated moments, but Michael Gambon's Dumbledore seems a bit disconnected and out of sorts. Then again, maybe the character's supposed to be perceived that way.
Any way you look at it, the series, with its relentless turnaround (the producers don't have the luxury of waiting — the principal actors will grow too old), is an ambitious undertaking — an undertaking ruled by profits for Warner Bros. At least the filmmakers, actors and creative types involved still put plenty of obvious care and love into the project. In short, Harry Potter hasn't lost its magic touch.