You can't blame Alex Sanchez for having mixed feelings as he promotes the final novel in his gay teen trilogy, Rainbow Road. His books have brought him success he never expected, renown across the country and a following that loves his characters dearly.
But most of all, he's learned that the trick to writing that captures the heart is honesty.
"I would work on things for several months, and then abandon them," Sanchez says of his days as a yet-to-be-published author. "So much of writing is about emotional honesty — as [my work] became too close, too intimate, it would become too difficult. I would discard the idea."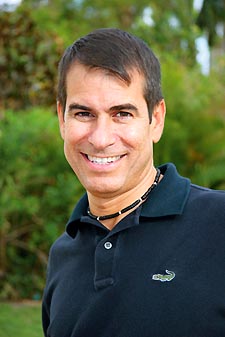 Sanchez
(Photo by Bill Hitz)
His unfinished frustrations eventually left him with two choices: "Let go of this dream or reach out for help."
He chose the latter, working with a group of fellow creative types who critiqued and supported each other's works, and his first novel, Rainbow Boys, was born and a successful series launched.
While cross-marketing helped the young-adult targeted book reach an audience of gay men who could see their own lives reflected in the story of high school boys working through issues of coming out, love and friendship, Sanchez also found an unexpected audience: straight teenage girls.
"They love to read about gay boys," he says. "I mean, in hindsight it makes sense, but I never foresaw that."
Rainbow High continued the success, as well as his Lambda Award winner So Hard to Say. Now, with Rainbow Road bringing his story of Jason, Kyle and Nelson to a conclusion, Sanchez definitely feels a sense of loss — but also an opportunity.
"I am sad to let go of them," he says. "But at the same time it is a relief and I'm excited to move on to other stories."
And he hopes to bring the lessons he's learned with Rainbow to bear on his new endeavors.
"When we read fiction, we're reading for that emotional experience," he says. "As a writer, I have to get there. That's both the scary part and the thrill of it."
Rainbow Road and other books by Alex Sanchez are available at Lamdba Rising and area bookstores. Sanchez will read and discuss his novel Saturday, Nov. 12, at 3 p.m. at the Tysons-Pimmit Regional Library, 7584 Leesburg Pike, Falls Church, Va. For reservations call 703-790-8088.