You don't have to be an rabid fan of Jane Austen to fully appreciate the romantic rush of the newly minted film version of Pride & Prejudice. When it arrives, near the film's end, as willful Elizabeth Bennet (Keira Knightley) realizes she has quite possibly misjudged the stern, severely appointed Mr. Darcy (Matthew MacFadyen), it does so with the force of a tsunami.
This is the umpteenth time Austen's 1813 novel has been adapted for the visual medium. It's been a TV miniseries countless times over, and its first film version in 1940 boasted a sterling silver cast that included Greer Garson, Laurence Olivier and Maureen O'Sullivan, as well as a screen adaptation by Aldous Huxley. It's even been a Bollywood musical (last year's Bride & Prejudice). But this is surely one of the loveliest versions yet. It's cinematically appealing — luxurious and fluid — and acted with a glowing naturalism.
Director Joe Wright, working from an adaptation by screenwriter Deborah Moggach, captures the Bennett family in all its country ordinariness. For a variety of reasons, Mrs. Bennett (wondrous Brenda Blethyn) is frantic to marry off her five daughters, starting with the eldest, Jane (Rosamund Pike), whom she virtually hurls at the well-off, socially gangly Mr. Bingley (Simon Woods), occupying a majestic summer home in their midst.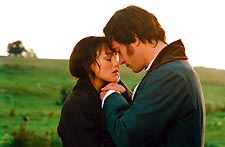 Love, actually: Knightley and MacFadyen
Mr. Bingley comes equipped with a traveling companion — the aforementioned Mr. Darcy, a dour, broody sort, with no overt sense of fun or frivolity. He's a stick in the British mud — and he and Elizabeth kick off their relationship in full combative state. We know, of course, where it's going to end up. But getting there is the fun — and Wright, to his credit, makes the inevitable romantic union feel spontaneous and honest (the movie ends with a scene so tender, it literally transports you to another world).
Wright gets every key moment perfect. A scene in which Darcy initially proposes to Elizabeth and is rebuffed is played out in a torrential downpour. Another, in which Darcy's aunt, Lady Catherine (Judi Dench, in prime scornful mode), accosts Elizabeth at her family home with a warning, shakes us up as much as it rattles the normally unflappable Elizabeth.
The brown-eyed beauty Knightley is a sincere delight as Elizabeth. A winning blend of feistiness and vulnerability, she captivates whenever the camera turns its lens on her. Blethyn is a treat as the Bennet matron, while Donald Sutherland calls on his mastery of understatement as head-of-the-household Mr. Bennet, a man who studies the world around him with resigned bemusement.
The power of Austen's work is that remains as relevant today as it was when first written. And, so long as it's adapted in a smart and sensible way, Pride & Prejudice will continue to age gracefully. After all, while notions of class, protocol and formality may be better suited to a British audience, there is no denying that love is a theme that remains universal, not to mention eternal.
---
Although it's been in theaters for several weeks, I finally caught up with Good Night and Good Luck (it was either that or Aeon Flux — which would you choose?), a dramatization of newscaster Edward R. Murrow's legendary "battle" with Senator Joseph McCarthy, the junior Wisconsin senator who, in the 1950s, made destroying Communism his cause, in the process ruining countless American lives using hearsay and intimidation as his primary means of conviction.
Filmed in stark, velvety black and white, and with an eye toward economy, the movie is a thought-provoking, compelling look into a moment when television news journalism still carried extraordinary influence. The film is at once historical, instructional and dramatically involving, boasting stunning performances from David Strathairn as the clipped, to-the-point Murrow and Frank Langella as CBS head William Paley. It features archival footage of McCarthy in both his televised rebuttal to Murrow's salvo against him and in Senate judiciary hearings. The use of the archival footage — and director George Clooney's willingness to let it play out, allowing its full impact to sink in — imbues the film with a historical heft that is more than a little unnerving.
"Is this the start? Are you taking sides?" asks fellow newsman Don Hollenbeck (Ray Wise) of Murrow. "Just a little poke with a stick," Murrow responds. "To see what happens." Later, Murrow says to his assembled, nervous staff, "We're gonna go with this story because the terror is right here in this room."
Murrow's controversial decision to go after the senator had repercussions on his career at CBS, as well as on the career of his producer Fred Friendly (Clooney), but it did not diminish his legend or his importance to the industry. Good Night and Good Luck pays homage to a newscaster whose courage and conviction remained intact to the end.
---
The 16th Annual Washington Jewish Film Festival concludes this weekend with a screening of Irena Fayngold's Hineini: Coming Out in a Jewish High School, detailing the impact of a young lesbian, Shulamit Izen, on her fellow teachers and students at Greater Boston's New Jewish High School.
"Where do I fit into my tradition?" says Izen, a bright and engaging young woman. "What does it mean that I'm doing something that's prohibited by Torah?" She challenges her institution — by no means an easy feat, given the Orthodox contingent's dim view of homosexuality ("it's fairly direct, clear and unequivocal that homosexuality is…prohibited in God's own words") — and is successful at planting the seeds for a Gay-Straight Alliance at the school. Her courage is also the impetus for bringing several teachers out of their closets.
The movie covers a lot of ground — and is extremely interesting at times — but suffers from director Fayngold's lack of filmmaking skill. The hour-long film feels like at three-hour instructional drill. Flash and panache certainly aren't required in a doc, but a little voice over narration and better pacing certainly couldn't have hurt. Screens on Sunday, Dec. 11, at the DCJCC Goldman Theater, 1529 16th Street NW. For more info, call 202-777-3249 or visit wjff.org.