The Gay and Lesbian Liaison Unit of the Washington D.C. Metropolitan Police Department added two police mountain bikes to the unit's arsenal Friday, Dec. 16, at a small event in front the Washington Hilton and Towers.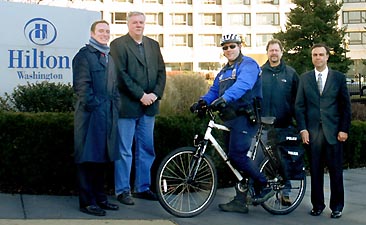 (From left to right) James Harrison of Commerce Bank, Jim McGlade of the Leather Rack, Sgt. Brett Parson of GLLU, Paul London of Washington Sports Club, and Steve Cowan of Washington Hilton and Towers
(Photo by Courtesy Hilton)
"About a year ago, we were at a Dupont Circle Merchants and Professionals Association [DC MAP] function. Sgt. Brett Parson of the GLLU was there, and he mentioned that the unit really needed some mountain bikes to adequately patrol the Dupont area," says Steve Cowan, resident manager of the Hilton. "At that point, the Hilton agreed to fund one bike if DC MAP could raise the funds for a second bike."
Fully outfitted to serve as a police bicycle, each bike cost more than $1,000, says Cowan, adding at that DC MAP executive director Ed Grandis led the fundraising effort at that point. By October, DC MAP members came through with the funding for the second bike, with substantial amounts coming from Commerce Bank, the Leather Rack and Washington Sports Club.
"Brett Parson was very appreciative on behalf of the Metropolitan Police Department and GLLU. And he said he'd continue to ride the bike through the winter. The cold won't stop him," added Cowan, who says the bike patrols make him feel safer when he's in the neighborhood. "With the bikes, they can patrol alleyways, behind commercial buildings — places cars can't go. And the bikes are much faster than foot patrol."