In the world of movies, 2005 will be a year remembered for the birth of Darth Vader and the death of King Kong (third time's the charm), a year of far too many remakes, far too many sequels, and a sharp decrease in overall quality and artistic merit.
And yet… and yet… there was just enough variety and inventiveness to make sitting in a darkened theater, munching on a $200 tub of popcorn and drinking a soda the size of a grain silo, occasionally worthwhile.
We begin with the best.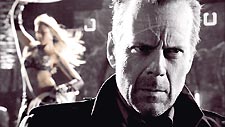 Hard-boiled: Willis, with Jessica Alba in the background.
10. Sin City — With its over-the-top uber-violence and morally depraved undercurrents, Sin City captured the spirit of Frank Miller's landmark graphic novellas with a devoutness that bordered on the obsessive. The movie was also a watershed moment for director Robert Rodriguez, who helped to further blur cinema's constantly changing boundaries of real versus digital. Featuring terrific hard-boiled performances from a cast that included Mickey Rourke, Bruce Willis and Jessica Alba, Sin City got you with its style, verve and force of being. It was deep impact filmmaking. (review)
9. War of the Worlds — And why the hell not? Proving he's still got that magic touch, Steven Spielberg gave us one of the best thrill rides of the year. The initial attack sequence alone, as hostile alien invaders lay waste to a New Jersey town, left you fearful for your own life (if only for a moment). Directed with an economy rare for Spielberg, War was a pure nerve-rattler. (review)
8. Lords of Dogtown — Catherine Hardwicke's paean to the board recounted the story of the rise of an extreme sport that's gone on to spawn legends like Tony Hawk. Aided by sincere, sterling performances — particularly from the gifted Emile Hirsch (The Mudge Boy) — Lords, based on an equally absorbing documentary by skateboarder Stacy Peralta, was blissful, scruffy and fully engaging. (review)
7. Walk on Water — Directed by Eytan Fox, this drama told the story of a barely-tolerant Israeli assassin assigned to uncover the whereabouts of an elderly Nazi war criminal and to "get him before God does." In doing so, he strikes up an illuminating and life-changing friendship with the man's gay grandson. Water went well beyond its basic set up, exploring the idea of tolerance and forgiveness with a strong, unparalleled humanity. A wondrous film. (review)
6. Wallace and Gromit: Curse of the Were-Rabbit — When you stop and consider that it was all created by hand — out of clay, no less — and shot the old-fashioned way, one frame at a time, you can't help but adore even more this already adorable treasure from Nick Park.
5. Kung Fu Hustle — A freewheeling escape into fantasy, informed in part by old Warner Bros. cartoons, Stephen Chow's delirious action-comedy was a wacky send up of — and respectful homage to — the chop socky genre. The year's most exhilarating film. (review)
4. Match Point — After years of floundering with half-assed films, Woody Allen finally gets back in the game with this London-set romantic thriller that combines Hitchcock and Dostoyevsky to chilling effect. The first hour is a little slow — but it's all set up for a riveting final act that leaves you breathless. Match Point deserves a trophy spot alongside Allen's finest cinematic achievements.
3. Brokeback Mountain — Two ranch hands discover an unexpected desire for one another while herding sheep one summer in 1963. What follows is a 20-year journey of internal repression and unrequited love, as they struggle to make sense of their feelings, laying waste to their own lives and, tangentially, the lives of those around them. Director Ang Lee has crafted a traditional, old fashioned Hollywood love story — fueled by soaring passions and wrenching heartaches — in the most untraditional manner possible. (review)
2. Mysterious Skin — Combining "alien abduction," child molestation, and a queasy sexual savagery, Greg Araki's masterpiece achieved in a bold, artistic strokes what hustler-centric filmmakers like Bruce La Bruce have been trying to get at for years. Araki straddled the line between surreal and real with a master's touch, and mined gold in the performance of Joseph Gordon-Levitt, who gives a revelatory performance as a self-centered, disaffected young hustler forever sexually soiled by a predatory experience in his youth. Chilling, gripping and deeply, deeply poignant. (review)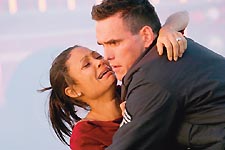 Force of Narrative: 'Crash'
1. Crash — The year's top dramatic achievement. An ensemble-driven narrative with interlocking storylines, Crash was a harrowing look at the racism that pervades our society to this day. The movie held up a mirror: We are all racists in some way or another — and we are all redeemable. Directed by Paul Haggis (who adapted Million Dollar Baby), Crash left you shocked, startled, and wishing it would go on for an hour more.
And now, the worst:
10. Fantastic Four — The surefire way not to make a superhero movie. (review)
9. Son of the Mask — Poor Jamie Kennedy. His experiment led him here. Sad. So sad. (review)
8. The Ring Two — Clearly, you can't keep a waterlogged dead girl down. So it was back into the well for Naomi Watts. (review)
7. The Fog — A remake of a dreadful '70s horror film that actually exceeded the original in terms of dreadfulness. It didn't scare you, it asphyxiated you. (review)
6. The Brothers Grimm — Terry Gilliam was once a superb, visionary director. No more. (review)
5. The Hitchhiker's Guide to the Galaxy — Few movies are bad enough to make you contemplate suicide. Here's one.
4. Charlie and the Chocolate Factory — Tim Burton and Johnny Depp unite to remake a classic and end up with a bad batch of gobstoppers. Call it Planet of the Oompa-Loompas. (review)
3. Cursed — Horrormeister Wes Craven tries on werewolves for size. He should have stuck to masked fiends with knives. (review)
2. Rent — Complete and utter musical discord. And if you really insist on taking up its defense, consider the shot of Adam Pascal, striding purposefully through the Arizona desert, singing at the top of his lungs — before returning to a New York rooftop where he sings at the top of his lungs to Anthony Rapp, who sings back at the top of his lungs. I rest my case. (review)
1. Bewitched — There should be a law against defiling our most cherished 1960s sitcoms. Come on, Congress, get on your broomsticks and make something happen! (review)