In Looking for Comedy in the Muslim World, comedian Albert Brooks is approached by the U.S. government to find out what makes Muslims laugh. He learns one thing definitively: It isn't him.
It's a bold idea for a comedy. And it's given somewhat of a boost by Brooks' whiney, neurotic, self-defeatist, egocentric persona and a few quick, bright flashes of satiric wit. But it's an idea that ultimately fizzles. After a promising start, Looking for Comedy loses comic momentum and never regains speed.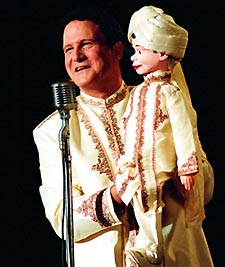 Dummy business: Brooks
Full disclosure: I'm a Brooks fanatic — have been since his days as a short filmmaker for Saturday Night Live. I will laugh at just about anything he directs. And yet, throughout Looking for Comedy I realized I was the only person in the theater laughing. (Either everyone else in that theater was asleep, or Muslim — or both.) Which caused me to wonder if I was laughing out of pity.
The problem with Looking for Comedy lies with the execution. By choosing to go with a straight narrative as opposed to, say, a faux documentary as he did with his achingly hilarious first film, Real Life, Brooks diminishes his satirical opportunities. The film takes stabs at the U.S. government, foreign bureaucracies, even Al-Jazeera, but they're half-hearted and obvious. The movie lacks the original and wry sophistication that typifies Brooks' best works, Defending Your Life and Lost in America. Even a playful riff on India-based call centers for American companies seems like an obvious shot, far beneath the usual Brooks comic lob.
The movie also lacks a supporting comedic actor — a Rip Torn (so robust and juicy in Defending) or a Debbie Reynolds (so charmingly naggy in Mom) — for Brooks to play off. He surrounds himself in Looking for Comedy with duds.
As is often the case with his movies, Brooks blurs the line of reality and fiction by playing a version of himself. This particular version is a downtrodden, out-of-work actor who's turned down for roles, such as the lead in a remake of Harvey, because directors don't "want to go Jewish." So when he's offered the opportunity by Fred Dalton Thompson, the former actor-turned-former-Senator-turned-actor, to travel to India and Pakistan and learn what makes the Muslim population giggle, chortle and guffaw, he leaps at the opportunity. The catch: he's required to write a 500-page report, which Dalton assures him will most likely go unread but will be weighed.
Brooks obsesses over the excessive page count — one of the movie's few effective running jokes — to the point where he instructs his Indian assistant (bland Sheetal Sheth) to pad things out with a full history of India.
The absurd set-up is rife with possibility, but Brooks squanders it. His primary potshots are aimed at U.S. burocracy — his two State Department lackeys (Jon Tenney and John Carroll Lynch) are resigned to a fate where nothing really ever gets done — but keeps himself free of any territory where he might insult or offend Indians or Pakistanis. Hence, the satire comes up toothless. An attempt to impose a subplot in which Brooks nearly causes an international incident between the two neighboring countries is silly, yet it gives the movie a reason to end.
It's hard not to watch Looking for Comedy and wonder what kind of comic gem might have been created had Brooks applied sharpness. You almost wish he had hired Curb Your Enthusiasm's Larry David to join him on his quest. David's inappropriate, over-the-top offensiveness would have given the film the shock it so desperately needs.
As it stands, Looking for Comedy in the Muslim World is too cuddly and cute. It wants too much to be liked to do any real satirical good. It's unfunny business.