ERASURE GOES COUNTRY… Erasure lead singer Andy Bell released his debut solo album Electric Blue last summer, and the first single is just now near the top of the Billboard Club Play Chart. Bell sounds positively insane on the fierce "Crazy," in which he deliciously spins out of control. But he'll have to knock off Mariah Carey and Deborah Cox to get to No. 1, and that's a crazy tall order to be sure.
Bell won't be spending 2006 simply resting on his 2005 output, which also included an Erasure album, Nightbird. Another Erasure album, Union Street, will drop sometime this spring. But we're less excited about this one than we could be. Why? Because it's another covers album from the group. And because this time, the focus is on revisiting some of Bell and Vince Clarke's older hits, turning synth-pop gems into… country tunes. Yes, "country & western," as their Web site puts it. From our standpoint, it sounds a bit like turning wine into water. The outcome doesn't make you giddy, and I'd rather not giddy-up. What are they out to prove? "To show the songs in a different light, and show that they could work on whatever instrument, synthesizer or guitars," Bell said on the Web site. The album will mostly feature tracks from early on in Erasure's career, including "Boy," "How Many Times" and "Love Affair."
The duo has not abandoned synth-pop altogether: the two are already in discussions about their next album of all-new material. And both Bell and Clarke in separate interviews have said it will feature tracks more dance-oriented than we've heard from Erasure, maybe ever, and more in league with Bell's club-oriented solo set….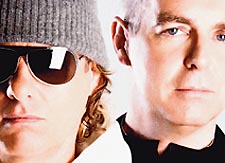 Pet Shop Boys
PET SHOP BOYS GET 'FUNDAMENTAL'… Another British synth-pop duo will also return this spring. And the Pet Shop Boys would never let us danceheads down, would they now? Well, the last couple offerings from what the BBC calls "the most successful duo in U.K. chart history" haven't been much about dance music. But there's hope for the new album in Trevor Horn, one of pop music's most legendary producers as well as one of its most devoted to electronica. Think Frankie Goes to Hollywood, Lisa Stansfield, Seal, even t.A.T.u. Horn is the producer of Tenant and Lowe's latest, Fundamental, which will be preceded by first single "Minimal" and will also include a song, "Numb," written by the schlocky ballad-maker Diane Warren. But there are much better songs in store, judging by the titles: "The Sodom and Gomorrah Show," "I Made My Excuses and Left," "Casanova in Hell." And judging by the early review at the British site PopJustice.co.uk, which called it "the first great pop album of 2006," as well as reporting that six of the 11 tracks are upbeat, and three of those are outright dancefloor stompers.
And another dancefloor stomper is cued up and ready to go first: the Pet Shop Boys' remix of Madonna's next single, "Sorry." Neil Tennant even added his own vocals to Esther's on the "PSB Maxi-Mix," according to the Boys' Web site. It'll be released early next month….
JUNIOR VASQUEZ GETS BEAT-ANGRY… Junior Vasquez is the most famous DJ in gay clubland, and one of house music's biggest legends. Now that he's back to touring the circuit, he's become more relevant to gay clubland than he has been in years, and he's still got the groupies to prove it. But over the past year Vasquez has been more focused on his anti-crystal-meth crusade than on his music — and it shows on his latest compilation, Party Groove: White Party Volume 7. It's his first set in years — and his first for celebrated circuit-party label, Centaur Entertainment. Vasquez has said he's never been more passionate about dance music than he is now that he's Tina-free. "For many years I was criticized for playing pots-and-pans but I'm over that sound," he says in the compilation's press notes.
I guess it depends on what the definition of pots and pans is, but he doesn't seem as over it as you might expect. White Party 7 is cluttered with beats, many of which, especially as the set opens, seem hurled at the listener in an angry rage. And speaking of angry: On track three, Vernessa Mitchell, his favorite vocalist and one who just loves to shout out shrill and repetitive statements, asks 110 times (yes, we counted): "Y'all Had Enough Yet?" At one point she shout-answers her own question, "Hell, no!" Clearly, she wasn't listening to our screaming pleas of "Hell, yes!" But we could forgive this annoyance — and Centaur for pushing aside satisfying past White Party compilers Tracy Young and David Knapp for Vasquez if there were anything else to recommend the set. There isn't. Instead, we get mediocre-at-best remixes of hot new tunes from Deborah Cox, Simone Denny and Amuka. And a remix of the 2005 World Children's Day Anthem. It's just about the worst song Destiny's Child has ever recorded. And Vasquez's by-the-numbers throwback remix only makes it worse. And that's all he's got, as that stinker closes out the set….