"Morningwood to the Nth Degree!" goes the anthemic cry to the third track on the self-titled debut album from Morningwood. Yes, there is actually now a band named after the slang term for a fresh-from-sleep erection. Even more improbable, it's a band being promoted to the masses by a major label.
This New York hard-rock quartet's music is painful at times. But even at its hardest, its loudest or its worst, you can't just turn it off. It begs you to give it attention. It convinces you its time is now. Not tomorrow, not later today, not when the mood strikes. Now!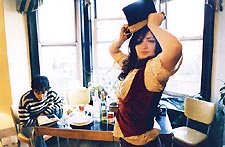 Full attention: Morningwood's Claret
(Photo by Hellin Kay)
That the band is actually led by a woman might come as a surprise. But Chantel Claret has more swagger than Jagger — she practices sheer seduction and sexual liberation from the album's first track, "Nu Rock," to its new-wavey, anticlimactic last, "Ride the Lights," in which she coos "when you come to see me, you will ride the lights so long."
On "Take Off Your Clothes," Claret commands a stranger to "get naked and see how it goes," further taunting him in rhyme, "see how it grows… You like me, it shows." Fittingly enough, the simple, angst-riddled bass line is almost wholly lifted from "Smells Like Teen Spirit."
"Baby, baby, you're such a baby…. Your momma, momma, momma shouldn't let me babysit," she sings to the boy in her charge on the peppy, blues-rock-charged "Babysitter." He can do whatever he wants, she tells him, as long as she can sleep with him.
But enough about sex already. The music is what keeps you listening. It's not particularly original, but Morningwood creates confident, sure-fire rock to make Linda Perry and most other contemporary rockers (especially Kelly Osbourne) jealous. Unlike others with a serious jones for Guns N' Roses, Nirvana or Joan Jett, Morningwood doesn't take itself too seriously. Like its musical cousin The Scissor Sisters, the foursome knows the best way to attract an audience is by entertaining them. On several occasions, they spell out the words in a chorus chant – including their name — much like party bands of the '70s. Bassist Pedro Yanowitz gives each song as much energy as Claret's often Jack White-styled vocals do — it's probably no coincidence that he used to be a drummer.
Morningwood could find at least cult favor, especially among the youth that pop culture slavers over. Its strong melodies, memorable lyrics and irrepressible identity can only help the band develop a devoted following that won't peter out.
---
We Are Scientists launches its debut album with a rallying electric guitar chord and snappy snare beats. This New York trio isn't quite as ballsy or as hard rock as Morningwood, and certainly not as insistent. This is more new-wave and punk, and lyrically the band is less concerned about sex and more concerned with striking ironic and intellectual poses.
Don't get the wrong idea, they do sing about sex. Like any band of three young men cultivating an audience with adolescents, they seem preoccupied with girls and booze. But as recent college graduates, We Are Scientists just try to appear more sophisticated and clever about it than your average joe. They describe the music they make as "rock music of the thoughtful, sometimes epic, often loud, vaguely danceable, implicitly humanistic variety."
What that means in practice is that We Are Scientists, originally from California, makes punky pop music that often sounds like early Green Day or The Cars. But they sound most like today's adolescent cult fave Hot Hot Heat, from Keith Murray's whiney vocals to the band's playful lyrics offering hipster rallying cries. The music is raucous and unadulterated. And as the album progresses, Murray's crooning voice wears a little, and the music turns predictable. But it never loses its energy. Or its sense of fun.