Summer of 2003 changed everything for Lucas Zarwell. The forensic scientist was satisfying his creative side, assembling a one-time variety show with Cherry Red's avant-garde maestro Ian Allen. Wondering what to do for their "Vaudeville Night," Zarwell blurted, "Wouldn't it be funny if I dressed up like a lobster and played the accordion?"
Lobster Boy was born.
Years later, The Lobster Boy Revue has become an alt-scene phenom, packing the house at Adams Morgan's Chief Ike's Mambo Room. Approximately four times a year, the six-foot-six Zarwell dons a custom-made, outsized red costume — which, he claims, has never been washed — and plays whacked out host to all manner of wonderfully bizarre acts.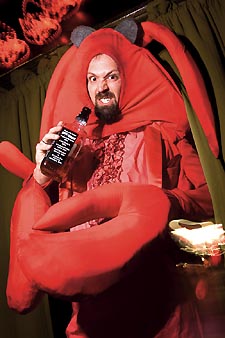 Lobster Boy
Photo by Todd Franson
The revues are generally produced around holidays — hence, Sunday's upcoming Alien Love Fest, which commemorates the joys of Valentine's Day and features local and imported (from New York, anyway) acts like Burlesque artist Jo Boobs, Trixie Little and the Evil Hate Monkey, and the Degenerettes, a gender-bending quartet.
The evening will also include an audience-participation game Zarwell calls "Gifts from Cupid." "It's going to be a little bit of a taste test. We're going to be tasting some — well, I don't want to give it away. Let's just say it will involve diapers and blindfolds."
The Lobster Boy Revue pokes fun at Vaudeville's glory days while paying tribute. "We've kind of bastardized the old days of Vaudeville by making this kind of a pseudo-carnivalistic freak show atmosphere," says Zarwell.
Needless to say, the shows have attracted a large gay following.
"I think it's because of the freedom," says the 35-year-old Zarwell, who is straight and married. "I think being gay so revolves around sexual orientation and preferences that maybe our show is seen as liberating. Not to mention that it's just so much fun for everybody. And who the hell doesn't want to have a good time?"
The Lobster Boy Revue: Alien Love Fest will be performed on Sunday, February 12, at 8 p.m. at Chief Ike's Mambo Room, 1725 Columbia Rd. NW. Doors open at 7 p.m. Tickets are $15. Purchase tickets at www.lobsterboy.net in advance or at the door.