To a natural-born cynic like myself, the pre-release hype for Woody Allen's latest — Match Point — was almost too much to bear. Virtually every major critic I follow hailed it as his best film in a decade. Not a miraculous feat when you stop to consider his crap from the past ten years: Melinda and Melinda, Curse of the Jade Scorpion, Anything Else. By my estimation, Allen's last fairly good movie was 1995's Mighty Aphrodite, and his last undisputed masterpiece, 1986's Hannah and Her Sisters.
So, naturally, I went into Match Point a little dubious.
I emerged in total agreement.
Match Point is not only Allen's best film in a decade, it ranks as one of his all-time best.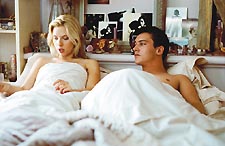 Bedtime stories: Johasson and Rhys Meyers
The movie isn't merely a return to form for Allen, it's a full career overhaul. Allen never truly lost his talent, but he had lost his creative way. By abandoning Manhattan for London, by replacing his normal stable of actors (including his own aging self) with a sharp, youthful cast, he's found the path to cinematic redemption (how long he travels it is a question only his next few London-based projects can answer).
Allen subtly — very subtly — channels Hitchcock, serving up a romantic thriller anchored in classic literature. In this case, Allen's dusted off Dostoyevsky's Crime and Punishment. He's covered the basics before — an affair gone bad, leading to a desperate married man, leading to an immoral decision — in 1989's Crimes and Misdemeanors, but the manner in which he presents the narrative has been refined and reshaped. Match Point plays like a dream. It boasts several unexpected twists and is presented with a courage that is not only brazen but morally unsettling. It's a real grabber.
You have to be patient, though. The setup takes roughly an hour, as former Irish tennis pro Chris Wilton (Jonathan Rhys Meyers) wedges himself into a plum situation by marrying the daughter of a wealthy British industrialist. He ends up with all the finer things the English upper class have to offer, including a box seat at the opera and vast apartments with jaw-dropping views of the Thames. Things change for Chris when he meets sultry, seductive Nola Rice (Scarlett Johansson), the American fiancé of his blithering buffoon of a brother-in-law (Matthew Goode). Nola instantly ignites passion in Chris, and he can't extinguish the blaze. It's a classic femme fatale attraction.
What's artful in Match Point is the way early, seemingly inconsequential details have greater meaning as the narrative's thriller aspects emerge. Don't get me wrong, this is no roiling boil suspense movie — it's more like a slow simmer. But a simmer still has the power to burn.
Allen gets fine, nuanced performances from his ensemble, which includes British stalwarts Brian Cox and Penelope Wilton as Chris's generous in-laws, and the wonderful Emily Mortimer as his wife, Chloe. But it's Rhys Meyers and Johansson who keep the drama snarled in tension, a tension that starts off as sexual and evolves into something far more insidious.
Fortunately for us all, Allen doesn't force Rhys Meyers to serve as his surrogate. There are no neuroses in Rhys Meyers's Chris — at least, none apparent on the surface — just a cool, almost creepy, calm. This can be attributed, in part, to the unflustered, mannered way of the British, who are about as far from neurotically supercharged New Yorkers as you get. Johansson eventually serves up just enough perfectly-pitched shrillness — echoing Anjelica Huston's performance in Crimes — to remind us that we're watching a Woody Allen film.
It's an easy thing to forget. Match Point may be the most un-Woody film the director has ever made. And yet it brings with it a rush of everything we love about this auteur who, in the mid-seventies and eighties provided American cinema some of its most vital works. In leaving America, Woody Allen has, at long last, put himself back on the map.