Remember when you were growing up and trying to fall asleep at night as weird and wispy shadows crept across your bedroom walls? With one eye open perhaps you'd comfort yourself by thinking of the Sandman, the Tooth Fairy and other benevolent creatures who might drop by for a visit and lull you off to dreamland.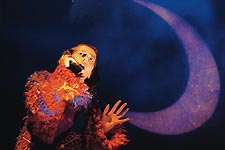 One paranoid mother: Velvet Sky's Jeanine Serralles
(Photo by Stan Barouh)
But what if your mother was convinced those childhood balms were coming to harm rather than help you? That's the premise behind playwright Roberto Aguirre-Sacasa's The Velvet Sky, which blends childhood fantasies with adult nightmares into a dark and surreal adventure laced with just enough honesty that it's absolutely, terrifically terrifying.
Aguirre-Sacasa has always been preoccupied with the bizarre and supernatural in his eccentric score of plays, including Dark Matters, The Muckle Man, and the cult comedy Say You Love Satan. Comic fans are familiar with his storylines for The Fantastic Four and Spider-Man series, and although Aguirre-Sacasa's works have been celebrated for their mystical themes and intriguing array of characters, they haven't quite demonstrated the range of emotional colors and maturity evident in Velvet Sky, a taut, muscular spook story clocking in at just 90 minutes.
To say that Bethany Palmer suffers from chronic insomnia would be a severe understatement. Bethany hasn't slept in the 13 years since she became a mother to her firstborn, and the constant fatigue and accompanying paranoia has finally worn down her policeman husband, Warren. On the eve of their son's 13th birthday, Warren kidnaps Andrew, warning Bethany not to follow them as they travel to New York City. But Bethany believes that the Sandman is in hot pursuit of her only son, and in a mangled fairy tale brimming with horrors both real and imagined, she leaves Blue Valley in a fight to save Andrew from a gruesome fate.
The Velvet Sky
To March 5
Woolly Mammoth
202-393-3939

Rebecca Bayla Taichman directs Woolly Mammoth's world premiere production with a cast that seems intuitive to the wonders of Aguirre-Sacasa's script. It isn't just Aguirre-Sacasa's creep-a-fied story that sticks to your psyche like a bad dream; the aesthetics are just as enduring. Colin K. Bills's lighting is eerie and evocative, and the haunting original music and sound designed by Martin Desjardins and Vincent Olivieri makes your skin crawl.
Of course it isn't enough to believe that there are monsters ready to pluck out our eyes and feed them to their young if we ignore the immediate dangers that face children and their parents. The Velvet Sky succeeds in unnerving us not only with threats of a late night caller, but with a jarring revelation in the play's final moments. There's a real lesson buried beneath the potential for blood and gore, subtly reminding us of our obligation to protect children from their beastly predators. It's an unsettling conclusion that bears the mark of a playwright who appreciates finishing the story just as much as conceiving it.
---
Awake and Sing!
To March 5
Arena Stage
202-488-3300

Different fears await in Clifford Odets's Awake and Sing! This time it's the trials and tribulations of the Berger household, a struggling Jewish family in the Depression-era Bronx. A dated and desiccated drama that unfolds like a starched pair of trousers, Awake and Sing! isn't exactly an endearing play, and here it serves to usher in the return of Arena Stage's co-founder, Zelda Fichandler.
Fichandler directs Odets's poetic tale of caged life with a plodding pace that weighs heavily on the play's first act. It's unfortunate that Robert Prosky's caricature portrayal of Jacob Berger, the family's stout, elderly rebel, is unable to carry the story beyond mere words on a page. It isn't until late in the second act, with Jacob's deliberate absence, that the action finally boils over, burning up the stage in moments of passionate suspense.
There are other performances worthy of recognition, however, and Jana Robbins is authentically fearsome as Bessie Berger, an insufferable force who epitomizes the stereotype of an overbearing and manipulative Jewish mother. Candidly straining the life from her two children Ralph and Hennie (played with fervor by Adam Green and Miriam Silverman), Bessie demands her authority and this means living by her rules as she draws them out. Hennie won't be "preggers" without a husband and Ralph won't marry a shiksa. With the family's resilience already softened by their economic position, the Bergers test themselves and each other against the wishes of their tenderhearted patriarch.
While there are a few savory moments of tense family politics, Fichandler's Awake and Sing! ultimately doesn't deliver much to crow about.
---
There is much to mourn in Jevetta Steele's musical Two Queens, One Castle. In an ugly attempt to vilify gay men, Steele and co-writer/director Thomas W. Jones II paint homosexuals in a horrible, predatory light with a self-righteous story that preaches intolerance and justifies cruelty to those living — and dying — with HIV.
In an ill-advised and shamefully misguided effort to warn other black women that their husbands may be closeted and cheating on them (known as living "on the down-low"), Steele rewrites her true life story of a marriage that ended when her husband admitted to a long-time affair with another man. As if his treacherous infidelity were not reason enough to hate homos, Steele takes her staged adaptation one step further. When "Husband" contracts HIV, he attempts to rape "Wife" with the intent of infecting her with the virus. Not only are gay men portrayed as morally questionable serpents, but even when they are humble and human it's not enough — "Lover" tries to make amends with Wife with a sincere apology and a housewarming gift, but the audience cheers on Wife's cold reactions and self-affirmations.
Aside from its blatant homophobic message and hypocritical lack of compassion, Two Queens misses its mark with a floundering story that moves at the speed of lightning. The audience is never afforded an opportunity to sympathize with any of the characters, and it often takes too long to extrapolate meaning from what is presented on stage. The plot would benefit from some carefully-appointed exposition, and it's also unfortunate that the vocals are grossly over-amplified to the degree that it's entirely unclear what some of the song lyrics are intended to communicate.
Two Queens, One Castle
To March 5
MetroStage
1-800-494-8497

MetroStage's glossy production is an artistic contradiction — it's a terrible mounting of a terrible show with a terrifying message, yet it features some of the best performances you're likely to see on stage all year. Felicia Curry is an enchanting force in the lead role, with a warm tone and blazing vocals that far exceed her diminutive height. TC Carson (Living Single) is superb as her husband, displaying formidable singing chops to match an alluring stage presence. And Gary E. Vincent does his best to avoid stereotype as the "other" man.
Musical highlights include the act one closer "I Ain't Supposed to Be Here" and Carson's solo "I Choose You." The rest of the evening is choreographed as one long, abstract music video, and Steele seems absolved of her depression by resolving that she'll get along fine without her husband, alone and dying in the background. She won't let him see their children and she won't budge from her pompous "God is on my side" attitude. It's discouraging when a work of theater supports this kind of narrow-minded definition of "growth" and "healing," but it's far more disappointing that it also perpetuates a cultural attitude of hostility and ignorance toward homosexuality.