Recently, Douglas Jordan, or "D.J.," as most know him, has been making some changes at FoodBarDC.
"If you haven't been to FoodBar lately, you haven't been to FoodBar," D.J. promises. It's not just the black and red color scheme with "atomic tangerine" accents, though that's part of it. The new karaoke Mondays that just kicked off with Crystal Waters as guest judge might have something to do with the FoodBarDC lounge finding its groove. There's also the Thursday-night trivia, set to begin next week. It's all coming together to make FoodBarDC a one-stop destination for dinner and drinks on any night of the week.
But Valentine's Day would be a great time to check out FoodBarDC, says D.J.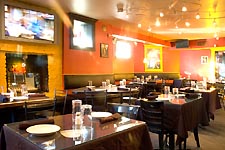 The right ambience at FoodbarDC
"We'll have roses for patrons, and Champagne and strawberries. Then there's the steak and lobster, or Singapore sea bass," he continues, running through a menu of delicious possibilities for dining duos. "We have a very nice wine list, with suggested pairings on the menu. We present the wines, making it a bit more upscale than most casual places. But you can still get a great steak dinner for $16."
And it's not just the food providing the appropriate ambience.
"We have live piano. Any other time, it's a variety of jazz or standards, but for Valentine's Day it will be mostly love songs."
Though FoodBarDC usually only accepts reservations for parties of five or more, D.J. says they're making an exception for couples on Valentine's Day. And with a steady stream of neighborhood regulars, D.J. strongly suggests that reservations be made sooner rather than later.
"Our regular patrons come in two or three times a week. People here know everyone," D.J. says of FoodBarDC's warm atmosphere. "We also bring newcomers into the family. I'd like to give an open invitation to everyone to come to FoodBar to check out the changes. Ask for me — I'd love to meet you."
If you can't swing a Valentine's visit, FoodBarDC is open for dinner seven nights a week, with brunch offered on weekends. Come summer, D.J. says the restaurant will offer lunch daily. During the school year, however, his kitchen is dedicated in the daytime to preparing lunches for five D.C. charter schools, getting young palates off to a good start.
"I think back to when I was in school and you'd peel back the foil. What was under there? Salisbury steak?" D.J. asks with a laugh. "This is totally different. Kids might get barbecued chicken with corn. And our vegetables are fresh. We don't open cans."
For more information about FoodBarDC specials and events, including Valentine's dinner, visit www.foodbardc.com.