"A choreographer is always unhappy," says Maurice Hines. "We're always unhappy with our choreography."
But during a recent dress rehearsal for Hot Feet, the lavish new musical he co-conceived with Earth, Wind & Fire's Maurice White, Hines watched his own choreography and was taken aback.
"There's a section in there that is so wonderful, I thought someone else did it," he says, his enthusiasm-pumped voice never once slowing down during the course of an extended phone conversation. "I didn't really realize what I was capable of creatively or choreographically until I got with [Maurice White's] music."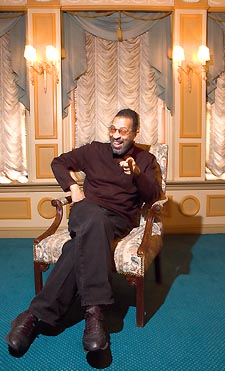 Hines
The $8-million show, a modernization of The Red Shoes, opened last week at The National Theatre for a pre-Broadway run. Hines is hopeful that audiences will emerge from it having had the time of their lives.
"The main thing is to entertain," he says. "My brother used to say, 'Maurice wants them to walk out saying "I had a good time, baby.""'
You may know the name of that younger brother — Gregory, who passed away in 2003. The pair worked together occasionally — their best-known stint was in The Cotton Club — but Maurice's career took a stage-oriented direction, while Gregory gravitated towards acting and film. The elder Hines is reminded of an odd coincidence — not long before his death, Gregory guest-starred on the gay comedy Will & Grace. Two decades earlier Maurice did a similar stint on Love, Sidney, the first television show to feature a central gay character.
Hines, 62, is gay himself. And always has been out.
"I've always embraced [being gay]," he says. "It wasn't something that was hard for me, even when I was a young man and was living in rough areas." He recalls that one of the first men he ever dated was a football buddy of Gregory's.
"I don't tolerate [intolerance]," he says, "because it's negative. And anything negative in my life must be dismissed."
Hot Feet runs through April 9 at the National Theatre, 1321 Pennsylvania Avenue NW. Call 800-447-7400.