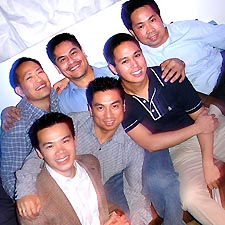 Members of AQUA at a recent happy hour event
Mission: To serve gay, bisexual, transgender, and questioning Asian and Pacific Islanders (API) in the Washington, D.C., area with advocacy, education and social events promoting a positive image of API.
Founded: 1997
Members: 70
How to join: GBTQ Asian/Pacific Islander men are eligible to be full members. Those who support API, but are not API themselves, can become ally members. Membership forms are available for download from the Web site. Annual fees are $12 for full membership, $8 for ally membership and Youth membership, and $15 for family membership.
Background: Don Verde, the present AQUA chair, was first introduced to AQUA by a friend who took him to a monthly event. Since that first time, he's made many friends as part of AQUA. "The guys in AQUA are great," Verde says. "AQUA also allows me to feel like I'm part of a community where I can be myself, both gay and Asian American."
Contact: Visit www.aquadc.org or e-mail aquadc@gmail.com for more information.
Next event: AQUA's monthly happy hour, "Spicy Asian Crunch," with KHUSH-D.C. and APIQS, Tuesday, May 2, 6:30 to 9 p.m. at Halo, 1445 P Street NW.