Joel Markowitz likes to tell the story about the night he repeatedly shushed a stranger in a darkened theater. When the lights came up, the apologetic chatter was revealed as none other than pratfall comic Chevy Chase.
Not that Markowitz would have held back if he had known he was shushing a star. He has a stubborn, determined, unsinkable sort of personality. It may be the glue that's kept the group he founded, The Ushers, together for 15 years.
"There are people around town who think I'm a real dictator, but they also say I'm the most organized," says Markowitz, who actually presents himself as very mild-mannered. "If you're reliable, they will respect you. The ushers are the most reliable group, because I'm tough. Some people hate me for it."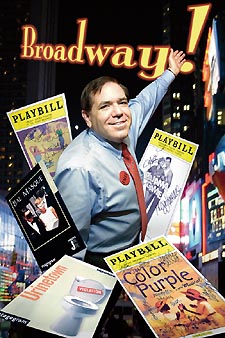 Markowitz
(Photo by Todd Franson )
But how dictatorial can a guy be who founded an organization to which he's devoted countless hours of labor, all to foster friendships and community? As Markowitz tells it, he moved to Washington in 1987 and had a difficult time finding his particular social niche. He had, however, found a way to pass some time, volunteering as an usher in local theaters. It was easy to connect the dots.
"There was no theater-going social group in the gay community," he recalls. "I was shocked." Thus, with an announcement and a few phone calls, The Ushers was born. Some members will usher voluntarily, some pay to simply go to a play, some enjoy the pre-show dinners or post-show desserts organized by Markowitz. Most important, says Markowitz, was forming a coherent group unlike others he'd seen in the area.
"I'd belonged to so many groups that were unfriendly, disorganized and run by cliques," Markowitz says of other groups he sampled after moving here. "[The Ushers] help each other. It's like a little family of friends who get together and have a good time — with no attitude."
For more information about The Ushers, visit www.ushers.us.