In a country clouded by indifference and terminally ill with apathy, it takes a political gadfly of a playwright like Tony Kushner (Angels in America, Homebody/Kabul) to drum up disturbingly poignant parallels between Ronald Reagan and Adolf Hitler. Not only does Kushner stir the passive sentimentality of the left in A Bright Room Called Day, his first published play, but Rorschach Theatre's sober production sings a quiet and affecting dirge for some of history's most appalling indiscretions.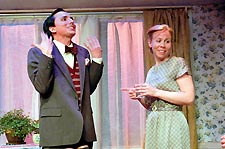 Rebel rebel: Strain and Allen in the 'Bright Room'
(Photo by Colin Hovde)
Dancing between 1980s Reagan-era politics and the demise of Germany's Weimar Republic, Kushner paints 1932 Berlin in such nearsighted specks that it's difficult to gaze beyond his busy one-bedroom flat to see how relevant his musings remain, two decades after the play's premiere. So Kushner relies on an independent thread of narration from a mid-'80s rage-against-the-machine rebel named Zillah to draw his latter-day comparisons. While Zillah's pen drips poison in outrageous letters to the president and she extols her extremist diatribe upon the steps of the Lincoln Memorial, Kushner unfolds his grim and unsettling account of a small group of liberal film artists struggling to survive amidst the shifting political climate in an increasingly volatile Berlin.
Agnes Eggling (Lindsay Allen) rents a comfortable apartment that she shares with her close group of friends, an eclectic array of activists and actors who share her love of film and vodka. Her door is always open, until at last Agnes is forced to confront the truth about her country's Fascist leanings, demanding that she make difficult choices in the face of a dangerous new government.
There aren't enough plays that deliver world history with a startling realization that catches in your throat, but Rahaleh Nassri's refined production captures the essence of Kushner's despair with a canny melding of romantic realism and an uncommonly clear vision of German politics. Kushner's eloquence is relayed by an intrepid cast that imbues his story with the kind of rare intelligence and focused energy one would expect from the Broadway stage. Here, on a tiny set with only a few feet dividing actors from audience, theirs are acutely-drawn performances that singe on such a small playing space.
Allen's vulnerability as Agnes is so deftly wrought that she wills sympathy with just a nervous glance through her window. Cam Magee and Alexander Strain offer precise, polished portraits in their eccentric character work, and Grady Weatherford (who is also credited with the evening's stylish and stellar film design) is thoroughly devastating as Agnes' lover, matching Allen's warmth with a hotheaded Hungarian who conjures up the devil — and his petrified black poodle — from the depths of hell to Agnes' living room.
A Bright Room Called Day
To May 21
Rorschach Theatre
$18
1-800-494-8497

In a series of grainy filmed sequences, Nassri guides a punked-out Elizabeth Chomko through Zillah's unofficial tour of Washington marble. They are vivid diversions from Kushner's bleak tale, filled with clever cautionary devices gleaned from the imagination of an undereducated, over-stimulated cult kid, and Chomko peppers her monologues with so much ferocity and wit that she is never less than enthralling.
For a company whose reputation is based on the ideal of creating "intimate passionate performances through uncommon uses of environment," Rorschach has proven they are unafraid to take chances with the unfamiliar. Jacob Muehlhausen's exquisitely detailed set is an essential character for Kushner's Bright Room. Its peeling wallpaper reaches out into the audience, inviting us to linger a few hours inside of Agnes Eggling's welcoming flat. And as we watch, helpless and hopeful, as Agnes' world of freedom and familiarity crumbles around her, we are reminded that the confused, paralyzed Germany that transferred all authority to the Nazi party doesn't seem so strange and foreign and incomprehensible anymore.
---
"Good art doesn't choose sides," claims a cautious Bertolt Brecht in Silent Partners, Charles Marowitz's new elegy to Brecht and his frequent collaborator, Eric Bentley. Indeed, no one in Scena Theatre's world premiere production is able to move far beyond middle ground in what is ultimately a cannibal of a play, devouring its own predator with a narrow investigation of the rare relationship between critic and playwright, politico and pacifist, loved and beloved.
Told through the smudgy spectacles of Bentley, the leading translator of Brecht's works who remained Brecht's "dutiful disciple" until Brecht's death in 1956, Marowitz's sprawling script melts from factual history — Bentley and Brecht's first meeting in 1942 to Brecht's testimony at the House Committee on Un-American Activities in 1947 to his successes with the Berliner Ensemble in the 1950s — into trite speculation on the nature of the pair's relationship. Scenes transition in and out, back and forth from reality to emotional memory to form this conclusion: Bentley may or may not have been infatuated with Brecht.
Marowitz establishes Bentley as the prime authority on all things Brecht, and while he attempts to sketch the "cold, inaccessible monster" Bentley prescribes, the father of Epic Theatre is ultimately little more than a pesky and impertinent seducer, exploiting all of the creative minds who fawn over his dramatic theory. It's a bit like watching a live memoir, grounded in Brechtian history, but as documentary theatre goes, it never once achieves a modicum of emotional resonance, lacking pith in some scenes and focus in others.
Perhaps the biggest problem lies in Marowitz's static direction, which leaves his actors antsy and full of nervous energy. Barry Dennen, a veteran stage actor who originated the role of the Emcee in the West End production of Cabaret and Pontius Pilot in Jesus Christ Superstar on Broadway and film, affects his portrayal of Brecht with a strange posture that renders his performance cinematic — everything is smaller and more contained — but rarely subtle. Ian Armstrong's Bentley is a spineless, whining puppy to Brecht's bulldog, though Armstrong does sparkle in a few comic bits against Dennen's all-bark-no-bite Brecht.
Silent Partners
To May 21
Scena Theatre
$25-$32
703-684-7990

Marowitz captures the spirit of Brecht's fierce philosophy in a dinnertime debate over Brecht's mechanics of The Caucasian Chalk Circle with his lover and co-author Ruth Berlau (Caroline Strong). Ripe with humor from Charlotte Akin's Helene Weigel (Akin says more in a glance than most actresses communicate in an entire evening), Marowitz crafts an insightful display of the relationship between husband, wife, and lover. And Michael Tolaydo, a fine actor who makes anyone he shares the stage with a better actor, makes a brief appearance as Hanns Eisler, Brecht's devoted confidante.
While Marowitz's story is a must-see for Brecht historians, its flimsy chronological plot whips from the magnanimous to the myopic. By the time Bentley finally works up the nerve to confront Brecht in a fantasy scene late in the second act, the notion of dramatic tension is lost on an audience already numb from two hours of tame biography.