With the Scissor Sisters taking its sweet time producing a second album, what are fans and followers of the half-gay and all-glammy disco-rock band to do but wait? At this point the best hope is for a fall release, and in the words of the band itself, "It can't come quickly enough."
Here comes The Ark to the rescue. The five-man band became a sensation in its native Sweden some five years ago, with early hits on which flamboyant lead singer Ola Salo sang about admitting to unpopular or unexpected love. One hit, "Father Of A Son," made the band's message more explicit.
"And I may be gay, but I can tell you straight away / That I'll become a better father than all of you anyway," Salo sang in the gay-adoption-rights song, complete with an exuberant "Hallelujah!" chorus.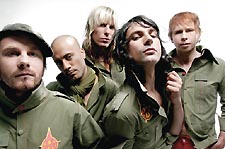 Ark angels: Salo and his band
(Photo by Emma Svensson)
The band's third album, State of the Ark, is also the first available in the states, part of its declared "voyage to capture America this summer." That includes performing from San Francisco's Gay Pride stage. Lyrics aside, it's not exactly clear that Salo is gay. Some press articles have called Salo "polymorphously sexual" and the band merely "homoerotic."
If nothing else, this über gay-friendly band has done its homework by cultivating the same fan base as the Scissor Sisters. But even more importantly, it has styled its theatrical and anthemic party-rock sound after seminal melodious and playful '70s acts Queen, KISS and David Bowie. Salo recalls his forebears with his pleasing, multi-octave voice and a musical style best described as propulsive pop.
The son of a preacher, Salo originally named the band The Ark because he was convinced the apocalypse was near. That idea at least worked to give the group a laudable purpose, one of musical salvation: "Outrageous music and home-made stage outfits — whatever it took to shake people up and make them live every day like it was the last," Salo says in press notes.
At least with State of the Ark, on which Salo took full creative control and purposely set out to make "rock with a disco beat," The Ark shows itself to be worthy progeny to the Scissor Sisters as well as to all of The Ark's stated influences. As in-your-face and over-the-top the sassy lyrics and some of Salo's vocals are, the music often ventures in the opposite direction, valuing subtlety and restraint, and becoming immediate, and immediately moving.
The album's opener, "This Piece of Poetry Is Meant to Do Harm," starts with nothing more than some weird guitar lashes and a quiet, steady drumbeat as Salo launches into his tale seeking vengeance for someone (God, perhaps?) who betrayed him. Salo sashays his way into the chorus, and the song gradually builds around him, complete with doo-wop-style backing singers, as if to downplay the lyrical venom. By the time the chorus comes around again, you're more than ready to sing along in bittersweet harmony.
Two years ago, Grand National was heaped with praise when the drenched-in-new-wave duo's debut, Kicking The National Habit, was released in their native England. A year and a half after the promotional push began, the album has finally seen a stateside release. It was worth the wait. Ranging from punky reggae and party pop to modestly experimental electronic excursions, Kicking the National Habit hooks you immediately and thoroughly.
The just barely thirtysomethings Lawrence Rudd and Rupurt Lyddon combine the sounds of several bands from the second British pop invasion in the '80s — The Police, New Order and the Happy Mondays. That vocalist Rudd and instrumentalist Lyddon combine those disparate sounds with such natural ease and sonic delight make listening to their debut something you could do forever. Songs like "Playing In The Distance," "Boner" and "Cherry Tree," with their ravishing chords, twirling horns, swaggering grooves, and speeding beats, appeal from the moment you hear them. After a few listens, you just might discover you've picked up a Grand National habit that will be hard to kick.