Andy Bell has one of the most underappreciated voices in pop music, and Erasure is one of pop's most underappreciated bands. Bell's big, theatrical, multi-octave voice is sometimes hemmed in and overpowered by Vince Clarke's finely textured but dominating electronic sonics. And creating electronic sonics, especially that you can dance and gaily sing along to, is not a way to gain acclaim as a serious musician.
So it's not surprising that Bell and Clarke would celebrate 20 years together as a duo by altering their sound in an attempt to gain greater — or even newfound — recognition in their craft. It's not an uncommon development in the oft derided dance/electronica genre. But whereas Depeche Mode, Deep Dish and countless others have made a safe right turn towards rock, Erasure makes a surprising left turn to country and folk.
What's even more surprising, however, is just how wonderful Erasure sounds as a countrified band.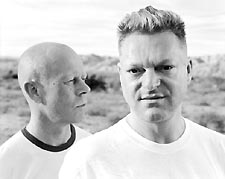 Pickin' & Grinnin': Erasure
Union Street is an enthralling collection of songs drawn from Erasure's electronica repertoire transformed as largely acoustic treasures. Unless you have every single prior release from the duo, you've probably never heard most of these unreleased or unpopular songs before. It saves Erasure the headache that surely would have visited them had they decided to remake all-too-familiar hits such as "Chains of Love," "A Little Respect," or "Yahoo!" However, based on the success they have here, maybe that should be their next move.
"Blues Away" was one of the best songs featured on 1994's I Say I Say I Say, an album best remembered for containing the gorgeous hit "Always." But the full impact of "Blues Away's" greatness didn't register with me until slowed and stripped down, as it is on Union Street. With no frivolous synthesized darts and dings to distract you, and a special acoustic guitar called a dobro echoing his voice, Bell's yearning for an elusive perfect lover to "chase my blues away" has never before registered quite as sad, touching or meaningful.
While you may expect the worst from Erasure's country approach, Bell has a penchant for experimenting with his vocal delivery. And the openly gay singer has never been one to shy away from what you might call — and we mean this as a compliment — high-fag theatricality. Few other men have even tried to captivate a listener by fluttering their voices up and down, or by dressing up their lyrics with quite as much frilly feeling and emoting, as Bell has done so successfully.
But to do it in a country song? True, it doesn't work in a couple of instances — particularly "Spiralling," where Bell spirals nearly out of control with Cher-wrought, and just-plain over-wrought, emotion. But the vocal theatricality Bell brings to bear on the very next track, the anthemic "Home," and the very last track, the hymnal-esque "Rock Me Gently," more than makes up for his few missteps elsewhere. Both songs feature fabulous harmonized backing vocals, and both are perfectly realized songs that deserve wide recognition — and not just as the country or folk classics that with any luck they could become. Instead, both could do duty as signature anthems in a Broadway musical. In fact, perhaps creating such a musical should be Bell and Clarke's next move. If it succeeded half as well as Union Street, the only proper response is: Curtains up!
Another British electronica artist also turned to folk for her latest album. The difference between Beth Orton and Erasure, however, is that Orton was pretty folky to begin with, and never committed to electronica. While Erasure's latest folk-focused effort is intended as an exception, not as a sign of things to come, Orton, with Comfort of Strangers, says she's through with electronica. She recently told NPR's Morning Edition that until she could write music with just voice and guitar, as she's now done with her latest album, she didn't consider herself "the real thing," a master of her craft.
Well. Nevermind how much you liked her previous albums then. Only Comfort of Strangers matters to her. Don't get the wrong idea — I don't begrudge Orton's shift. (Well, okay, so I do a little.) Yet I must admit that Comfort of Strangers is an appealing album, filled with beautifully melodic sweet and sorrowful songs. But as good as it is, in contrast to her previous output, it's a bit boring. Without William Orbit, or any of the other electronic producers she previously worked with, to add subtle electronic sparkles around the song's edges, Orton has lost her edge. Her output gets lost in the shuffle of the many other rewarding folk-based female singer-songwriters currently creating music.