"Oh, that's too perfect!"
Christine Baranski whooshes into the Kennedy Center's Africa Room, and immediately positions herself next to an elegant bare-breasted sculpture carved from wood.
"Harriet and I must be photographed with this," she instructs. The photographer is more than willing to start snapping away. "We're bosom buddies, after all!" she exclaims, taking hold of one of the statue's breasts to accentuate her point.
When Harriet Harris arrives, Baranski yanks her up onto the statue's platform.
It's quite the sight. Two stars, one on each side of a piece of nude female art, cupping its breasts and mugging gleefully for the camera. If they weren't friends before taking on the spectacular revival of the Jerry Herman musical, Mame, at the Kennedy Center — with Baranski in the title role and Harris as sidecar-swilling sidekick Vera Charles — they certainly seem to be now.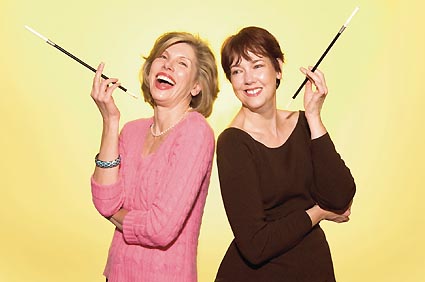 Christine Baranski and Harriet Harris
"I've been telling Christine to do Mame for three years," says The Shakespeare Theater's Michael Kahn. Kahn, who recently stepped down as the director of the drama department at Juilliard, was a professor to both actresses when they attended the prestigious performing arts conservatory. He later directed each in various productions and is largely responsible for giving Baranski's career an initial launch, a career that has, over the years, brought her critical acclaim and an armload of awards — including an Emmy for her unforgettable portrayal of the witty, hard-drinking socialite Maryann Thorpe in Cybill. The role helped Baranski achieve national star status, but it also served to cement her position as a modern gay icon, a position boosted by her work in such gay-themed movies as The Birdcage and Jeffrey.
In gay icon territory, Harris is more of an up-and-comer, although the actress, whose expressive, mischievous eyes seem to have a life all their own, is certainly on the right path, with a featured role as the scheming and malevolent Felicia Tillman (sister to the murdered Martha Huber) on Desperate Housewives. Harris, who in 2002 won a Tony for her work as Mrs. Meers in Thoroughly Modern Millie, is also well-known for her desperately funny portrayal of the gloriously manipulative talent agent Bebe Glazer on Frasier.
Both are extremely gifted actresses — and their onstage chemistry in Mame, which opened in the Eisenhower Theater last week — is explosively comedic, to say the least. Watching them at work together is to witness two masters at the peak of their craft. While Harris's Vera consistently delivers a bellyful of laughs, it's Baranski's Mame — with her brash, brassy, warm persona — that ultimately mesmerizes and enchants. When Baranski delivers the evening's blazing torch number, "If He Walked into My Life," her voice as smooth as the finest silk, time just stops.
"I don't think they knew what they were getting into when they agreed to do this show," laughs Eric Schaeffer, director of the multi-million dollar revival, "but it's been magic. The great thing is that they're so in awe of each other and each other's talent."
"I really get pleasure watching people grow and be wonderful actors," says Kahn. "But I get such a lot of pleasure if they work. Acting is such a hard life and I'm so glad that both Christine and Harriet have really significant careers in acting. And I'm also pleased that they have managed to conquer all the mediums — theater and film and TV — so that they have real careers."
Watching the two interact during the cover portion of their shoot, you get a sense of camaraderie, of an ego-free generosity one doesn't usually sense with stars. It's almost as though they'd been bosom buddies for years.
Click for even more from the stars of Mame
Christine Baranski and Harriet Harris star in Mame, at the Kennedy Center Eisenhower Theater, through July 2. Tickets are $59-$78. Call 202-467-4600 or visit www.kennedy-center.org.