How might Pablo Picasso, "the world's greatest artist," eat a log of sausage? Well, as portrayed by Mitchell Hébert in the emotionally sterile Picasso's Closet, you shave off the end of the roll with a butter knife and gingerly nip at the sliced meat. This is Picasso, the father of Cubism? The man obsessed with women and art? The famous painter who seduced women with his eyes, the visceral bull of a man dripping with testosterone and fraught with his own virility?
In a horizontally-striped boatneck shirt and scarf tied around his neck, Hébert's artist is an earthy soul who defies the script in Ariel Dorfman's fuzzy world premiere at Theater J. He is outlined as a wandering spirit pent up in his Paris studio, paralyzed with indecision on how to react in a time of crisis, yet this Picasso is so modest and mannered that he may as well be remembered as a gentleman.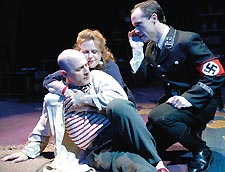 Life during wartime: Hébert, Clarvoe and Palmer
(Photo by Stan Barouh)
Dorfman, the celebrated novelist, poet, and author of Death and the Maiden, imagines a world where Picasso didn't die in 1973 in the south of France, but fell at the hands of an impassioned Nazi soldier in 1944.
Little is known about Picasso's activities in Paris during World War II, as he locked himself up in his studio on the Rue des Grands Augustins. Certainly, Dorfman asserts, he was faced with challenges over choosing sides in such a volatile time. Did he — would he? — choose life over art? His flesh over his soul? And what of his endangered friends? How many would he save? And what role did Dora Maar, the model and photographer infatuated with Picasso, play in his fictional demise?
It's an intriguing premise, to be sure, but under John Dillon's literal direction, the evening unfolds as a stiff and stern homage to events that never were. Sketched out over three lengthy acts, Dorfman's account ends where it should begin, with a frenetic press conference that introduces us to the heart of the story. Instead we open the doors to Picasso's Closet without much fanfare, in a whirlwind of dates and times that fly by without compelling prologue.
And while it should be a virtual playground swarming with fascinating politicos and artists from history — we catch glimpses of Balzac here and Jean Cocteau there (but close chums Gertrude Stein and Alice B. Toklas are nowhere in sight) — Dorfman tediously focuses on one lone Nazi's attempt at assassination. The Nazi's motives are never entirely clear — sometimes his scenes smack of the homoerotic, others indicate he may be an illegitimate son — and his Inspector Javert hunt weighs down scenes already fighting for poignancy.
Strictly cerebral and suffocating with pretense, Picasso's Closet sometimes feels like an amateur rendering of Guernica, not quite effective and not quite as rebellious. There are fleeting moments of poetry in Dorfman's tale, but central to its troubles are Hébert's docile Picasso and a universally generic aesthetic that is completely absent of cultural flair. It appears as though Picasso and Dora have been ethnically homogenized in a reedy love affair lacking all of the hedonism hinted at in Dorfman's writing.
Of course it doesn't help that Saxon Palmer, as Picasso's predator Albert Lucht, treats the material as an exercise in precise elocution. His posture always suggests a panther on the prowl, but his delivery is more cold-blooded Toastmaster than antagonistic killer. And Katherine Clarvoe, who bears a striking resemblance to comedienne Tracey Ullman, blasts through the psychology of Dora Maar with little subtlety. The effect is a freeze on the emotional pull of her character, particularly when she is defending herself to fictional newspaper reporter Charlene Petrossian (a very sturdy Kathleen Coons).
Ultimately is it Lewis Folden's colorful and supremely detailed set that leaves a lasting artistic impression. His busy artist's loft is the canvas upon which Dorfman's fiction paints itself, drop by strenuous drop. It's a beautiful and scenic display that reflects a wealth of resources and commitment from the producers. And while Theater J remains fearless in their approach to world premieres, Picasso's Closet is in need of a good, thorough cleaning.