Just so you know, there's nothing even remotely Catholic about Phoebe Rusch's 3/4 of a Mass for St. Vivian. Whatever sanctimonious religious icons the play's title conjures are best left shed at the lobby altar of the Theater Alliance's H Street Playhouse, freeing the imagination to explore the nature of intimacy separated from the burden of theological discourse.
Rusch would have it no other way.
Sure, there are brief references to saints sprinkled throughout the 17-year-old playwright's intelligent and mystical script, but those are just passing fancies to remind the audience that this is an exquisite memory play dipped in tiny, shimmering pools of reality. The rest of the 80-minute evening is sheer adolescent discovery, lyrical and poignant, ignited by the friendship between two teenage girls in the early 1970s.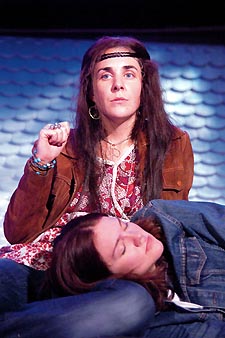 Tripping: Woolley and Fritzky
(Photo by Colin Hovde)
Emily (Marybeth Fritzky) is the new girl in town, all white tights and textbooks as the straight-laced daughter of a holy-roller evangelist. Biology class introduces "Em" to the free-spirited Vivian (Nora Woolley), and the unlikely pals forge an enduring bond that outlives bell bottoms and blood transfusions, bandanas and bad drugs.
Little Miss Vivian is, of course, anything but a saint — she's a hip and tripping teenager with wealthy, traveling parents. The two girls spend most of their time together up on the roof of Vivian's home, a splendid escape from the horrors of high school. It is here on Dan Conway's mythical storybook set that Viv dispenses wisdom of the Stoics and quotes the great philosophers with equal reverence. She's a terrible influence on Emily, introducing her to Camus and cannabis while cutting class. Yet through Emily's vivid narration we learn of Vivian's tragic secret, a defensive act that Woolley portrays with just enough conviction to keep us on our toes.
All of this syrupy talk of best friends and girl crushes could translate into a mawkish, maudlin piece of theater about life-affirming friendship and bubbly bosom buddies. But Rusch, a Chicago native and "rising" senior at the exclusive Interlochen Arts Academy, writes with such innate maturity you're left to wonder how in the world a 15-year-old could imagine, much less pen, such an elegant story (her script is already two years old). It would be unbelievable writing from a seasoned playwright, much less from someone who just secured a learner's permit.
Rusch waxes on with major questions about life and people and human nature, determined to define the eternal quality of true friendship and the genesis of real love. Her tuning fork finds the unspoken gratitude that lies beneath the surface of two people who need each other, and with grace and a little bit of rare ingenuity, Rusch builds a lovely tribute to everlasting friendship.
Paul-Douglas Michnewicz directs the world premiere production with creative intuition, developing lingering snapshots underneath Dan Covey's moody lighting. And although Michnewicz ultimately gives in to the irresistible vibe of Rusch's "only the good die young" essence, he avoids the predictability factor with clever moments that divert attention away from the inevitable plot mechanics and focus on Rusch's colorful, charismatic dialogue.
3/4 of a Mass for St. Vivian
To Sept. 3
Theater Alliance
The H Street Playhouse
1365 H Street NE
1-866-811-4111
www.theateralliance.com
Both Fritzky and Woolley deliver solid, simple portrayals that allow the playwright's poetry to settle in without pretense or routine recitation. Their performances are fresh and spontaneous, whether Woolley is confronting God Almighty from the top of her roof or Fritzky is tickled with affection for her new friend. "I wanted to unzip my skin," she says as Emily succumbs to a moment of truth, and you believe the sparkle in Fritzky's eye comes from the joy of newfound love.
It's a risky enterprise, developing a raw script from a virtually unknown 17-year-old, and it's that kind of gorgeous risk that reaps such glorious rewards for Theater Alliance. Under the artistic leadership of Jeremy Skidmore, Washington's best small theater company consistently presents their unique craft of beautiful, literate theatre that inspires. And when a theater produces something this honest — this good — you have to close your eyes and thank all the saints who hang out on the rooftops, one by one.