It may have taken some time, but the buzz on DJ Tony Ruiz is finally booming as big as his beats.
Ruiz is Pittsburgh's most popular gay DJ and he's spun at prominent gay clubs up and down the West Coast. He's now a regular on Fire Island and Rehoboth Beach, as well as at various bear events nationwide.
A decade into his career as a professional DJ, Ruiz has slowly and surely built the buzz that brings him to Apex this Friday, Sept. 29, at the request of the club's manager, Joey-O.
"He asked me if I was interested in playing in D.C. and I said, I'd love to," says Ruiz, 35, who considers himself a protégé of occasional Apex guest DJ Twisted Dee. That relationship taught Ruiz a lot about remixing, lessons that have paid off.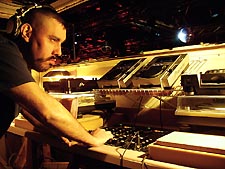 Ruiz
"About two years ago I started taking my DJ'ing to the next level and started working in production, doing my own remixes."
Ruiz has helped compile Billboard magazine's influential Club Play Chart for seven years now, and he spins on a near-weekly basis at the Pittsburgh Eagle, home to the city's largest gay dancefloor. Ruiz cites leading gay DJ Ralphi Rosario as a chief influence — with Ruiz at the turntables, the Apex crowd can expect a mix of "poppy, bright music" with vocals and tribal beats.
"I like a lot of vocals," Ruiz explains. "I really don't like to stay at one end of the spectrum, either dark or fluffy. When I'm in the middle of a dark, kind of tribal/progressive set, I like to do something to bring the crowd up, give them something uplifting, kind of gospel-ly, kind of house." At that moment he just might play D.C.-native vocalist Rachel Panay. Ruiz says Panay is responsible for two of his favorite tracks from the past year.
"It's funny because she showed up at Cloud Nine this year in the middle of her new song 'The Real Thing,"' Ruiz says. "That's definitely one of my biggies right now."
Ruiz has fond memories of that night in Rehoboth, the Friday of Labor Day Weekend.
"Nobody else had power because of Hurricane Ernesto, so Cloud Nine was jam-packed," he says. "It was incredible. There were like 40-mile-per-hour winds and it was pouring rain outside, but we were slammed."
Now it's D.C.'s turn to get electrified.
DJ Tony Ruiz will spin this Friday, Sept. 29 and again on Dec. 15 at Apex Nightclub, 1415 22nd Street NW. Doors open 9pm, cover $8. Visit www.apex-dc.com or call 202.296.0505 for more information.