Of all the classic horror stories, from dark and gothic to gruesome and bizarre, perhaps no one tale has survived more incarnations than Mary Shelley's Frankenstein. With the classic 1931 film version a permanent fixture in the collective American conscious, Synetic Theater boldly examines the allegory of Dr. Victor Frankenstein and his "hideous progeny" with a new adaptation that rattles to life in the Kennedy Center's Terrace Theater.
All of Synetic's signature aesthetics are here, from minimal sets and carefully appointed costumes to stark, dramatic lighting. Once again the direction of Paata Tsikurishvili and the choreography of his wife, Irina, produce a vivid and haunting display of physicality, underscored by epic orchestrations that drive the movement onstage. With their potent brew of dance, pantomime, music and movement, the Tsikurishvilis cast a mesmerizing spell over Frankenstein and his infamous creation.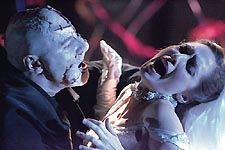 C'mon, just one kiss: Kavsadze and victim
(Photo by Raymond Gniewek)
Synetic's Frankenstein begins in the icy Arctic waters as Dr. Frankenstein (Dan Istrate) is pulled aboard a ship bound for the North Pole. In pursuit of his "monster," the doctor relates the dreadful story of how he created life in his laboratory one stormy night. Suddenly we are witness to Frankenstein's legacy, from a young medical student blinded by ambition and the desire for fame to the eerie genesis of his Creature. It's all beautifully illustrated in detailed vignettes, with letters home to his love Elizabeth (Meghan Grady) and well-constructed scenes to explain how the body parts were culled for the Creature. Even Paata makes a brief appearance as an eccentric Professor who warns Frankenstein of the dangers of playing God.
But all of this past is merely prologue to the moment when Frankenstein's Creature is reborn. With moonpie eyes and the mentality of an infant, Irakli Kavsadze is both helpless and horrific as the malformed creation living in misery and isolation. In an impressive performance that alternately evokes sympathy and terror, Kavsadze — who looks a bit like George O'Dowd on Halloween — renders a Creature that is part child, part beast, but entirely human in nature.
It isn't long before the Creature has scared off Dr. Frankenstein by accidentally killing a fellow professor. As the Creature searches for his master, his public debut is commemorated in a ballet of violence, wreaking havoc on the townspeople who are appalled by his appearance. He continues the pursuit of his creator until at last he finds him through an act of revenge, imploring him to create a suitable companion for his lonely giant.
"For the love of one person, I would make peace with the whole world," vows the Creature, and with a subtle message that pricks the heart, Shelley implores us to examine the need for someone else to blame, the need for others to pay the price for our own mistakes.
The Tsikurishvilis heed Shelley's advice, presenting a brilliant demonstration of how people fear what is unknown. Accompanied by the original compositions of Konstantine Lortkipanidze and Aaron Forbes, the message is delivered by a strong group of dancers and actors who radiate the energy of their craft.
Although formal choreography is a secondary element in Synetic's Frankenstein, the entire cast maximizes the beauty of Irina's movement, which is especially evident in the discipline of Istrate's powerful doctor and in Grady's graceful Elizabeth. Tsikurishvili's actors still stammer over dialogue that feels stiff and unnatural, but here it seems to matter less when the principle character has just learned to speak.