Pairing a fragile, Billie Holiday-like voice with spare, country-tinged arrangements à la Norah Jones, Madeleine Peyroux is a prime purveyor of lazy Sunday jazz for the Starbucks set. Worldly and sophisticated, her albums play like treasures from a bygone era. Schooled in her jazz and uptown blues predecessors, the 32-year-old Peyroux is a skilled interpreter of songs, accentuating subtle lyrical nuances with her understated delivery.
Peyroux took eight long years to follow up her debut album with 2004's exquisite Careless Love. Mercifully, she was prompt in releasing her latest, Half the Perfect World. A formulaic mix of four original tunes and eight choice covers, primarily focused on literate writers from the latter half of the 20th century, Half the Perfect World explores romantic relationships, often from a distinctly feminine perspective.
Produced by Joni Mitchell's ex-husband and '80s collaborator Larry Klein, the album's loping arrangements are built around a core jazz combo of gently swinging acoustic guitar, piano, bass and drums. Equal weight is given to the space between notes and words as to the sounds themselves.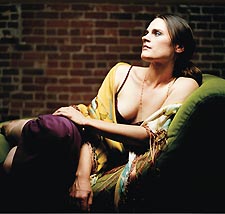 Feminine perspective: Peyroux
The original songs find Peyroux writing with producer Klein, Steely Dan's Walter Becker, and Jesse Harris, himself a frequent Norah Jones collaborator. Only on the stand-out, gospel-inflected original "A Little Bit" does the album pick up its sauntering pace and find a groove.
The album's title track and "Blue Alert" were co-written by downbeat poet Leonard Cohen and his protégé, Anjani Thomas. Versions of both songs appeared earlier this year on Thomas's piano-based debut album Blue Alert, but Peyroux takes the songs to new heights, owing much to the Hammond organ swell that carries "Blue Alert" through aching lyrics: "You know how nights like this begin, the kind of knot your heart gets in, any way you turn is gonna hurt."
Peyroux is generous in sharing the spotlight with instrumentalists on other tracks as well. Till Bronner's muted trumpet is featured prominently on Tom Waits's intoxicating "(Looking For) The Heart of Saturday Night" and the gorgeous album closer, "Smile," penned by Charlie Chaplin, while Gary Foster's alto sax interlude is center stage on Johnny Mercer's "The Summer Wind."
Madeleine Peyroux
At GW Lisner Auditorium
10/27, 8 p.m.
Peyroux's decision to duet with k.d. lang on Joni Mitchell's "River" is unexpected, to say the least, but likely influenced by Kline. Peyroux's textured, lived-in voice is not well-matched to lang's pristine, powerhouse vocals. Furthermore, turning such an intensely personal song into a duet dilutes its sense of solitude. Moving at the speed of a glacial ice flow, the duet brings a newfound commiseration to the romantic longing and sadness of this seasonal classic. On the lyric "singin' songs of joy and peace," Peyroux and lang exude an envy of those happy souls surrounding them and a deep desire to possess the joy and peace of which they sing.
Her cover of Fred Neil's "Everybody's Talkin"' lacks the open-road freedom of Harry Nilsson's definitive reading from Midnight Cowboy, yet it more fully captures the loss and regret implied by the lyrics. As she has done on past albums, Peyroux includes a single Parisian café song to showcase her impeccable French. This time around it's "La Javanaise" by provocateur Serge Gainsbourg.
Half the Perfect World is a lovely collection of songs, but it continues to solidify Peyroux's reputation as a one-trick pony who lacks diversity in delivery and material. As such, her previous album, Careless Love, stands as her artistic high-water mark and serves as a better introduction to this gifted performer. But if you already drank the Kool-Aid, you'll enjoy this, too.
In 2003, ever-inventive jazz singer-songwriter, pianist and bandleader Patricia Barber received a Guggenheim fellowship to create a song cycle based on Ovid's Metamorphoses. Her daringly original and ambitious collection Mythologies brings that task to fruition, making it the ultimate concept album for literary graduate students and other sophisticates.
Ovid's epic poem from antiquity recounts more than 200 Greco-Roman myths, taking as its theme change and transformation. Barber has chosen 11 of these myths, giving each a uniquely modern perspective and creating distinct jazz settings to allow each song its own style. Arrangements range from the traditional jazz quartet — guitarist Neal Alger, bassist Michael Arnopol, and drummer Eric Montzka accompany her on all tracks — to borderline avant-garde creations incorporating hip-hop raps and a children's choir.
Barber's "Pygmalion" is sweetly yearning, her "Persephone" gently seductive and percolating over a Latin beat, her "Narcissus" fittingly unrequited. The pulsating bass line and scorching electric guitar on "Orpheus/Sonnet" are befitting a journey through Hades. The only serious misstep is the rapped coda of "Phaeton," which catalogues various breeds of animals (much like Bubba recounts every possible way to cook shrimp in Forrest Gump) and has nothing to do with the rest of the song.
Mythologies is a difficult but ultimately rewarding experience. Just be warned that you may want to keep a mythology textbook nearby for quick reference.