As a self-described Scrooge, I always applied that label to myself without actually knowing the full story of Charles Dickens's classic A Christmas Carol: A Ghost Story of Christmas. Perhaps because I'm such a "bah, humbug" person myself, I managed to avoid seeing, reading or otherwise consuming the perennial favorite. Until now.
After 31 years, I was finally treated to Ford's Theatre's annual production of the show, adapted by Michael Wilson. It turns out that A Christmas Carol is an entertaining redemption story, providing a number of visually captivating scenes sure to tantalize the kids in the audience, as well as enough subtle humor to make it fun for adults as well.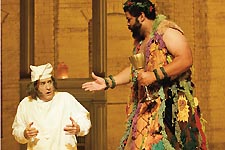 Present imperfect: Poe and Dash
(Photo by T. Charles Erickson)
As everyone else knows, A Christmas Carol is the story of Ebenezer Scrooge, a crotchety miser who is granted the chance to examine his life — past, present and future — and make amends for his ways.
Richard Poe assumes the role of Scrooge this year, in a cast otherwise heavily stacked with actors from previous years. With the weight of much of the play resting on Poe's shoulders, he does an admirable job transforming from wicked and cheap to gleeful and generous.
The Cratchit family is appropriately sappy and loving — sugary enough to satisfy anyone's sweet tooth. Michael John Casey is well-cast Bob Cratchit, the ever-optimistic father to Tiny Tim (Noah Foster) — itself a very understated part considering the number of cultural references the spring from the role.
Of course, the other key players are the three ghosts — Past (Suzanne Richard), Present (Elliot Dash) and Future (Carlos Gonzalez) — who also double as merchants in debt to Scrooge. Richard is wonderful as the Ghost of Christmas Past, creating a motherly role that is both nurturing and stern. Dash is larger than life — in all ways — as he towers over Scrooge physically and dominates his scenes. However, his bellowing and roaring of lines often distracts and garbles what he is actually saying (a problem many of the supporting characters suffer). Gonzalez, who only points as the Ghost of Christmas Future, portrays his merchant part with so much enthusiasm on stage, he comes off as a cartoon character rather than an actor.
A CHRISTMAS CAROL
To Dec. 30
Ford's Theatre
511 10th St. NW
$30-$55
202-397-7328
www.fordstheatre.org
And the cute cast of children are of course rewarded with oohs and aahs for their performances.
The staging for the show is appropriately bright and festive when needed, but quickly and effectively transforms into the dark and sinister future that may lie in store for Scrooge. The entrance of each of the ghosts uses the limited stage to the fullest potential.
One exception is the admonition of Scrooge by Jacob Marley (Michael Goodwin), possibly the most over-the-top scene of the entire show. A horrible cross between a drag queen with ridiculously long press-on nails and some chain-bondage fetishist, Marley is more folly than fearsome.
The final scene, of course, tugs at the old heartstrings. Aside from a disturbingly large (and still-feathered) bird bought for the Cratchit family, Scrooge's transformation is smoothly conducted. Even the coldest of holiday hearts can't help but be warmed a bit, both by the performances on stage and the obvious glee from the kids in the audience.
Ford's Theatre treats a classic tale with respect and in a manner designed to introduce the story to a new generation. While I managed to make it to adulthood without seeing A Christmas Carol, I will certainly play the part of the favorite gay uncle and take my future nieces and nephews to the show when that time comes. For if it becomes a family tradition I must endure, Ford's Theatre is a worthy place to endure it. At least this way the kids will know why everyone calls me Scrooge.
Now, maybe next year I'll finally see The Nutcracker.