There are any number of ways to have an enjoyable evening when attending Legends! at The National Theatre.
You can walk down memory lane, reading the biographies of the play's leading ladies, Joan Collins and Linda Evans. It's a trivia contest: Can you recall the Batman episode in which Collins guest starred? (She played special guest villainess The Siren in episode 97!) Do you remember the name of the character Linda Evans played in Beach Blanket Bingo? (Sugar Kane!)
You can eavesdrop on other audience members to see if anyone has any idea what it is they are about to see. One suspects that more than a few are taken slightly aback when they realize Collins and Evans are not appearing onstage as Alexis Carrington Colby and Krystel Grant Jennings Carrington, but as Sylvia Glenn and Leatrice Monsée, two characters that lack the depth and subtlety of the Dynasty divas.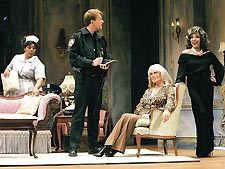 Acting badly: Patano, Ethan Matthews, Evans and Collins
(Photo by Carol Rosegg)
Or you can guess at what stunt casting lies ahead to keep Legends! on stage. Suzanne Sommers and Joyce DeWitt? Penny Marshall and Cindy Williams? Bea Arthur and Rue McClanahan? Charo and Dame Edna?
Where you won't find much entertainment, however, is onstage itself. Were it not for the elaborate setting of The National Theatre, with its heavy curtains, ornate ceiling and fully-stocked bar in the lounge, you could easily believe you had wandered into a high-school production. A high-school production that lost its first-string cast to mono.
The plot is a straightforward affair. Collins and Evans play two aging Hollywood actresses, now living in New York, who are as famous for the roles they played as for their ongoing feud. Martin Klemmer (Joe Farrell) is a second-rate off-Broadway producer trying to get the two women to star in his new show by convincing them he has already signed Paul Newman to play the male lead.
Glenn (Collins) has fallen on hard times and, to mask the fact, arranges to meet Monsée (Evans) and the producer at a friend's apartment that she pretends is her own. Throw in a collection of old jokes about being old, a sassy maid, a befuddled young policeman, a male stripper and, as the saying goes, hilarity ensues. Or is supposed to ensue, anyway.
The tedium swings back and forth between utterly empty line deliveries by Evans and Collins — even they seem to find it unfunny — and a collection of supporting cast members who seem happy simply to be employed. Farrell is particularly annoying as he appears to be modeling his unsuccessful performance after one of Jerry Lewis's oddball characters. He should stop immediately.
Tonye Patano, known to some for her recurring role on Showtime's Weeds, is disappointingly reduced to playing a cartoon character, mugging for the audience to squeeze what laughs can be had. There is little point to mentioning the other two cast members except as a cautionary tale. If you are ever told that your big break will involve stripping down and being playfully spanked by Joan Collins, head to your next audition.
Beyond the bad acting, the poor writing and the general feeling of embarrassment inspired by watching Collins and Evans walk about the stage, striking poses and attempting to find the most flattering stage light, Legends! has very little to offer to Washington audiences. At a point well into the play, Klemmer tells Collins and Evans's characters, "There is a vast audience that will pay just to see the two of you sit on a stage together." Clearly, this is exactly what everyone involved in Legends! is betting on.