If it were a musical, maybe I would love it. But as it stands, Michael Kahn's premiere of the recently adapted The Beaux' Stratagem is a fussy, finicky affair that never fully unsheathes itself from the mothballs of 18th Century Restoration comedy.
That seems a shame, given the tender edits from one Thornton Wilder 67 years ago and later revisions, eventually rounded out in 2004 by contemporary wordsmith Ken Ludwig. George Farquhar's 1707 romp has been tinkered with and tampered with and tousled about by two fine American playwrights, determined to render his final comedy relevant to modern audiences. And while their efforts are valiant and perhaps even downright plucky, the result of their combined labors leaves too much to be desired.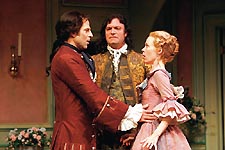 High-knickered knavery: Innvar with Ian Bedford and Cox
(Photo by Carol Rosegg)
Take the original settings, for example. There are no updates to time and place, so it's still a tittering tour of late-Restoration England, contrasting the quaint countryside with its rustic inns and doting chambermaids to the bustling village of Lichfield, home to bored society mavens and sophisticated eccentrics. It's still (unfortunately) fashionable for two ambitious rakes to engage in the toddy pursuit of wife-fetching amongst the wealthiest and most desirable ladies they encounter, giving way to plenty of room for heavy scheming and strategizing and plotting and planning and pining.
Our crafty beaux are still the witty Jack Archer (Christopher Innvar) and winsome Tom Aimwell (Christian Conn), and they're still preying on Lady Bountiful's doe-eyed daughter Dorinda (Julia Coffey) and her sulking sister-in-law Mrs. Sullen (Veanne Cox). So while the unlikely team of Wilder and Ludwig retain all of the high-knickered knavery and dim drawing room chatter alongside hiding out in china closets and the like, the only salient revisions to the script are a few additions and subtractions of peripheral characters and sillified subplots.
It's all very polite and precious, and occasionally smacks of Ludwig's tongue-in-cheek sensibility, but the effect of two adapters over the span of 65 years renders Farquhar's sociopolitical commentary altogether wry and merely coquettish. Most of Farquhar's tediously long, drab monologues have been clipped down to several brief soliloquies that engage the audience with gratuitous references to current culture wars and political scandal. Any alterations from Wilder that would highlight his subtle style and charm are muted by glaring gestures of commedia dell'arte and gender-affirming humor. It may not be your grandmother's Farquhar, but your mother might still giggle at the endless seam of in-jokes and tightly-choreographed mayhem.
That isn't to say there is even a trace of discord among Kahn's assiduous ensemble. In spite of — or perhaps because of — the "violent mutual attraction" between Jack Archer and the married Kate Sullen, Innvar and Cox deliver the evening's juiciest bits with tart observations on courtship and the misery of matrimony. Cox stews in her own icy vitriol while her giddy mother-in-law, Nancy Robinette's ludicrous Lady Bountiful, proposes outlandish cures for any assortment of medical maladies. With expanded dialogue and absolute certainty for the most absurd remedy, Robinette's kooky physician is the comic cousin to her memorable Mrs. Malaprop from Keith Baxter's 2003 production of The Rivals (the last Restoration comedy presented on the Lansburgh stage).
Both Innvar and Conn are pleasant protagonists, and with the curious addition of a conniving highwayman named Gloss (played with feeble debauchery by a cackling Rick Foucheux), we're finally given someone seedy enough to root against.
Visually and thematically, The Beaux' Stratagem keenly recalls Baxter's version of The Rivals, yet Kahn's collaged concoction lacks the sort of sparkling mischief and extraordinary visual feast that made Baxter's comedy so frilly and so fun. Sure, James Kronzer's sturdy revolving set is a work of ingenious design, and yes, there are a few lovely frocks from Robert Perdziola, but by and large The Beaux' Stratagem is an inferior play in both form and function.
Perhaps a few jaunty musical numbers and a line of brew-chugging chorus girls kicking up their heels at Boniface's Inn would give it some extra punch — and there is more than enough opportunity to turn those new soliloquies into rousing solos and soaring arias. If it were a musical, The Beaux' Stratagem might make sense to a 21st-century audience. Instead, it still feels as stuffy and as stoic as its well-powdered wigs.