Temp (noun): a temporary employee, typically an office worker who finds employment through an agency.
Odyssey (noun): a long and eventful or adventurous journey.
From the first moment of tempOdyssey, you know that a long journey is in store. While orbs flash around the stage, a disembodied voice opens the show with a discussion of scientific experiments involving black holes — it's clear that whole lot of analogy lies ahead. Heavy-handed at best, it's a misstep that starts Studio Theatre 2ndstage's production of tempOdyssey on a journey that's more arduous than adventurous.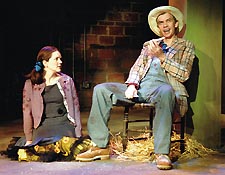 Temporary insanity: Fritzky and Boggs
(Photo by Scott Suchman)
tempOdyssey is about the world of those brave souls who hop from job to job in employment limbo. Is it because they are searching for something they cannot find or because they are running from something and don't want to be found? This question and many others are explored in Dan Dietz's play, which is trapped in its own limbo between the surreal and the absurd.
Genny (Marybeth Fritzky) is the shrill new temp who claims to be a pro at the office gig but is annoyingly inept at adapting to a new office situation — she's the type of temp you don't ask back for a second day. A recent transplant to Seattle, Genny has a past she cannot outrun. She is "Little Genny" from Appalachia, a local child-star famous for her ability to painlessly kill chickens (it makes them taste sweeter). But her years as a poultry-killer and all those broken necks have taken a toll on the girl. It turns out that too much choking the chicken can come back to haunt you.
Helping Genny find her balance on the job is Dead Body Boy (Evan Casey), also known as Jim, who is truly the consummate temp worker. Jim is the office expert who knows how to work the system and tries to nurture Genny through her first day on the job. Even though the two are working for a bomb manufacturer, it's really Genny who is the most explosive and dangerous. See the subtle analogy?
As the wise temp, Casey is tempOdyssey's saving grace. His delivery is precise and every move accentuates his dialogue, adding the proper weight to the literal and figurative meaning. When it appears that his job is done for the night, it's a bleak forecast for the remainder of the show. Fortunately, he does in fact return for the second act and continues to save the production from sinking into the aforementioned black hole.
Fritzky has a challenging role in Genny. Unfortunately, her monologues are the evening's weakest portion, in large part due to the lack of subtly. She's strongest when able to play off the other actors — her scenes with Casey make the best out of her shaky character, and when opposite Genny's Daddy (Kevin Boggs) she's able to develop the character beyond the wide-eyed temp.
tempOdyssey
Through Dec. 31
Studio Theatre
2ndstage
14th & P Sts. NW
$29
202-332-3300
www.studiotheatre.org
Dietz crams a lot into one day on the job. Switching back and forth between Appalachia and Seattle, he juxtaposes numerous dichotomies to varying degrees of success. His language is at once beautiful as it conjures vivid imagery and crass in its over-reliance on "fuck." Some of Genny's lines would be fantastic to read, but are so quickly glossed over on stage that by the time you're through processing them, you've missed the next plot development.
What portions are emphasized — the opening monologue and numerous scientific lectures on the theory of a black hole — sadly say little more than "I'm comparing my characters and the office environment to a black hole. Don't miss this important device I'm using."
Office work can be surreal enough. As tempOdyssey veers into the dark spaces of Genny's mind, it's stretched beyond the point of no return. Director Christopher Gallu things in during the first act, but unfortunately not even talented actors can save the latter half. Repeated voice-overs during the production only remind the audience that, like the repeated black hole analogy, tempOdyssey is trying a little too hard to make its point. In fact, only a fantastic final speech from Fran (Misty Demory), the temp of all temps, rescues the ending from complete implosion.
tempOdyssey delivers fine performances from actors making the most out of a flawed script. Hopefully next time the agency will send them some place where their talents are better utilized.