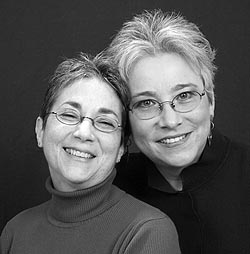 Susan Simon and Beth Jones
As you contemplate the things you want to change or achieve or implement for your life in the coming year, you're sure to look at things from as many angles and perspectives as you can see. Still, it may be unclear how, exactly, you're going to meet these goals.
In short, it's a situation where you could use the help of a third eye — Third Eye Associates, Ltd. in this case. The brainchild of life and business partners Beth Jones and Susan Simon, Third Eye Associates is a source for comprehensive life and wealth planning.
"In many cultures, the third eye has significance for seeing beyond the immediate and tangible," explains Beth. "That's how I approach my clients. I have the ability to see the gold in people and uncover it for that person."
Both Jones and Simon have many years of experience in financial planning services, but chose to launch their own business because, says Beth, they wanted "to make more of an impact on people's lives."
And how do they do that? Through holistic life and wealth planning.
For the new year, you may be resolving to take better control of your financial life — but for what purpose? Are you seeking a new career path? Worried about retirement? Want to buy a home?
Although Third Eye Associates will deliver a complete financial plan, that is far from the final product when it comes to reviewing and planning your goals.
"We have a different process," says Beth. "Our process helps clients to get to the source of what their life is about. What's their purpose, their passion, their values?
"We work with them to resolve the obstacles to living a fulfilled life."
And what is a fulfilled life? That depends on your values and your dreams. The process is not about what Beth and Susan tell you, but about what they help you discover about yourself.
"Ultimately, the client is the expert in their life and we help them uncover the answers in themselves," says Susan. We are so inspired by our clients."
Making plans for a realistic retirement is a big issue for many who come to Third Eye Associates. With the decline of pensions as an income source, increased life expectancy and the shifting of costs, traditional ideas of retirement simply no longer apply.
Other clients come to Third Eye Associates with shorter term but equally important goals they want to achieve. Some, Beth says, are burned out from their careers and want to explore ways to take time off to figure out "What do I want to do with the rest of my life?" Others
want to change careers, perhaps becoming their own boss as a consultant or with a home-based business.
Whatever your own dreams, Third Eye Associates can help you discover and build a path to help you reach them. "The sooner people start reviewing their life, what's working and what's not, the better," Beth says. "Once we have those conversations, and get tuned in to their heart's core, we can move onto creating possibilities."
Making decisions about what actions to take to reach your goals becomes a natural expression of what's really important to you.
To reach Third Eye Associates, please call 202-667-2266 or visit www.thirdeyeassoc.com. Securities and Advisory services offered through Commonwealth Financial Network Member NASD/SIPC a Registered Investment Advisor.