Since March 10, the tone at Long View Gallery (1302 Ninth St. NW; 202-232-4788) has been set by painter Gerard Erley, whose show Poetic Landscape is on display through April 2. It may be more apt to report that rather than setting the tone, he's setting the "Tonalism."
"I kind of key into older work,…particularly a school of American art called Tonalism," says Erley, referring to the late 19th century style of landscape paintings that might be called moody and misty. Though Erley looks to Tonalism, he's also looking up.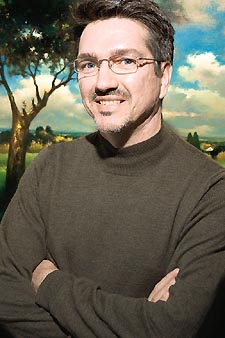 Erley
"Landscape painters focus on the land," he says. "A lot of my work is very sky-focused. I like the boundlessness. I'm kind of moonstruck."
It's always the window seat for Erley on planes, so he can enjoy the views. But his affection for the sky doesn't mix well with driving.
"I remember driving down a highway once and seeing the sunset, and in another direction seeing the moonrise," he recalls, adding that this sublime distraction almost led to an accident. "But what a way to go."
Though he favors vistas of land and sky, Erley says he has on occasion included figures. It's perhaps the only way his being gay has influenced his work.
"Occasionally I'll put in a figure, usually male. Sometimes they're nude," he says with a laugh. But as the Illinois-based artist prepares to uproot himself and move to Georgia for the sake of a position his partner has accepted at Georgia Southern University, he has more resources at his disposal than he did as a naked teenager. He's even putting his foot down in his search for a new studio in Statesboro.
"I've worked under artificial light, and that's okay. But this time, I'm holding out for some natural, northern light. It's the quintessential artists' light because it doesn't vary during the day."