For the past dozen or so Sundays, Steven Scott Mazzola has journeyed into the Land of Oz. It's a trip that has evolved, deepened and refined itself with each journey, the last of which comes this weekend, as he sits back to enjoy the fruit of his visits in one big creative rush.
Mazzola, you see, is stage director of the Gay Men's Chorus production of The Wizard of Oz, running this weekend only at GWU's Lisner Auditorium. The chorus produced the musical back in 2002, but this is a bigger, more elaborate production.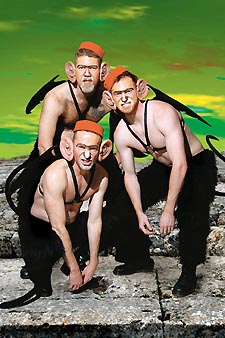 Clockwise, from top: Mark D. Uhen, Daniel Head, Brad Ward as Flying Monkeys
"It's the Titanic of musicals," enthuses Mazzola, who by day works as Michael Kahn's assistant at The Shakespeare Theatre Company. Along with musical director Jeff Buhrman and a bevy of chorus volunteers, Mazzola has been responsible for shaping the show into a magical, musical experience, evoking memories of the classic film while putting its own stamp on things. Obviously, the biggest of those stamps is that all of the roles are played by men. Men with incredible singing voices.
"There are people in this company who are gifted — terribly gifted," Mazzola marvels. "I think a large number of these guys could just switch over and work as professional [performers]."
A musical as big as Oz has its challenges — particularly when it comes to special effects. But the biggest challenge Mazzola faced was how to represent the Munchkins.
"Clearly we don't have small individuals to play the Munchkins," he says, "but I think we've come up with a novel way to satisfy the audience's urge to see very, very small people played by very, very large men."
The Wizard of Oz plays Saturday, March 24 at 3 and 8 p.m., and on Sunday, March 25, at 3 p.m. at Lisner Auditorium, 730 21 St. NW. Tickets are $19 to $49. Visit www.gmcw.org.