Only see Woolly Mammoth's production of She Stoops to Comedy if you want to laugh. Only see this show if you enjoy intelligent humor. Only see this show if you want to be impressed by fine actors carrying out an innovative concept.
In other words, see this show.
Within the first five minutes, it's clear that you're in for a bumpy ride. Not a "fasten your seat belts" kind of ride, but rather one where you're a picked up by a tornado, spun around, and dropped into a world that is different and odd and wonderful and fun.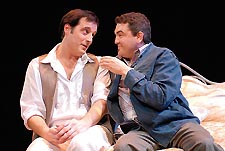 Funny stuff: Russotto and Escobar
(Photo by Stan Barouh)
This tornado was created by playwright David Greenspan, who explores gender, sexuality and love in his inventive play. In the opening moments, a writer's brainstorm stirs up the idea for a new play and he physically sets the stage for the production. Then, in the blink of an eye and with the jutting of a hip, Alexandra (Michael Russotto) takes over.
Poor Alexandra doesn't know where she belongs. Literally. One moment it's 1950, then 1980, then the 1990s. All that remains the same is that Alex's girlfriend, Alison Rose (Gia Mora), has left her. In a desperate and hilarious attempt to win her back, Alex decides to masquerade as a man and costar with Alison in a summer production of As You Like It.
Directed by Howard Shalwitz, She Stoops to Comedy is a play within a play, within another play. Russotto is a man, playing a woman, playing a man. The end result is a show that could be the lovechild of Victor/Victoria and The L Word, by way of Shakespeare.
Joining our estranged lesbian lovers are the overbearing Jayne (Kate Eastwood Norris); Kay, Jayne's former lover who is alternatively an archaeologist and a lighting designer (also Norris); director Hal (Daniel Frith); Hal's assistant/lover Eve (Jenna Sokolowski); and "silent" Simon (Daniel Escobar), who turns out to be not so quiet.
In reality, there is a seventh cast member: the audience. She Stoops to Comedy becomes a dialogue, albeit one-sided, between the actors and their audience. Through direct addresses and acknowledgments, the inevitable interaction that takes place in any theater is embraced and explored to a tremendous result.
It's hard to pinpoint the exact moment when the show gels. At first, it's easy to feel lost. In fact, with characters who can stop a scene mid-line and restart from the beginning, it's inevitable. After trying to keep up with the rapidly changing plot and character development and laughing through it all, suddenly the theater is silent and the true emotions buried in every relationship — hope, love, pain, fear — are laid bare on the stage. You're not sure how director Shalwitz got you there, but you've arrived.
Russotto is terrific as Alexandra, playing the role without drag and relying only on his own body, mannerisms and affectations to switch from gender to gender. Similarly, Mora gives Alison the troubled heart needed to capture a woman torn between the love that was and the love that could be. Together, they carry the weight of the show with amazing strength.
She Stoops to Comedy





To April 22
Woolly Mammoth
641 D St. NW
$32-$52
202-393-3939
www.woollymammoth.net
As the play nears its end, it appears that Hal, Eve and Simon might be the filler cast needed to simply flush out the Alex and Alison relationship. However, it is actually these three actors who bring a needed level of gravitas to the play. Frith and Sokolowski create real chemistry as a couple walking a fine line together yet miles apart. Escobar is a true emotional catalyst as he explores what lies beneath what could be a stereotypical gay role. As the only character not in a relationship during the show, his internal conflict bursts forth with great passion — first amusing, then heartbreaking.
In a strong cast, Norris deserves special note. Performing the inevitable "scene" between former lovers Jayne and Kay, Norris is simply outstanding. Her performance alone would be reason enough to see the play; fortunately, it's just one part of a greater whole.
She Stoops to Comedy is part of the citywide "Shakespeare in Washington" celebration and this non-traditional production is well worth stepping outside the norm. You may leave the theater a little unsure of where you've been, but you'll be happy you were there.