What a difference a week makes. Round House Theatre's production of Crime and Punishment concludes its run in an environment much different from the one in which it opened. What does such a radical change do for a play? Does the play become better or worse? More relevant or more painful?
In the playbill, Carrie Hughes, literary manager at the McCarter Theatre in Princeton, N.J., writes of Crime and Punishment: "In the age of Law & Order, extraordinary rendition, O.J. Simpson's aborted memoir, the Supreme Court's current reexamination of the definition of the insanity defense, and the war on terror, Crime and Punishment is a classic work of literature that resonates wildly with the contemporary world, a novel ripe for reinterpretation on the stage."
Sadly, the killings at Virginia Tech, can now be added to this list.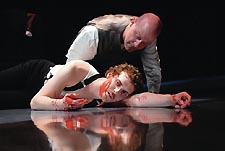 Killer instinct: Deeker and Hébert
(Photo by Stan Barouh)
In light of such a brutal act, Fyodor Dostoyevsky's story of a man who kills because he believes himself entitled to commit the crime is chilling at best, but more likely just nauseating to contemplate. In this case, however, it turns the play from a mediocre adaptation to a reminder why we employ the arts to examine life's greatest mysteries.
Dostoyevsky's tome has been pared down to the basics: the CliffsNotes version, if you will. Adapted by Marilyn Campbell and Curt Columbus, the play is an exercise in themes and motifs rather than a story told through a developing plot. It is the examination of an idea: When a man is cast out of society, why should the laws of that society apply to him?
Raskolnikov (Aubrey Deeker) is that man, a dropout and misfit whose only company is a prostitute. In his mind, he is capable of great things, but in reality he is capable of almost nothing. Deeker has a difficult task in assuming the role of Raskolnikov, a murderer who might be sympathetic. He must be unapologetic at the same time as he's vulnerable. Deeker is able to tap into this grey area, playing the character in the space between lucid and insane. As Raskolnikov edges closer to his breaking point, Deeker edges closer to simply throwing a tantrum on stage. Fortunately, he reins it in before the final snap.
The remaining roles in the show, ranging from detective, to father, to prostitute, to hag, are well handled by only two actors. Porfiry (Mitchell Hébert) is the other primary male role, a detective investigating the murder of an old pawnbroker and her sister. Hébert plays it cool, sometimes invoking an air of superiority, but often just carrying on a conversation in calm and soothing tones. Sonia (Tonya Beckman Ross), the only hope for Raskolnikov's redemption, is wonderfully played as a woman so desperate for something, she'll hold on to anything. Required to make the most character switches during the show, Ross adeptly transforms from one to the other flawlessly. Together, Hébert and Ross carry more than just their own weight for the production.
Director Blake Robison uses the few actors and open staging to further the impression that Crime and Punishment is more the examination of an idea rather than a theatrical illusion. The simple addition of a shawl or hat are enough to change characters, donned and removed right on stage. Otherwise, a sole chair is the only furniture in the production. In fact, when the murder weapon and blood are finally introduced, it cheapens the dialogue that was transpiring on stage. Suddenly the ideas being examined seem secondary to an artistic device.
Of special note, Robin Stapley's set design is simply stunning. A round stage allows the actors to constantly circle each other in their dialogue, which also loops back on itself. Kenton Yeager's lighting creates harsh angles across the stage, slicing and dividing the plane with more efficiency than any physical staging could have done. Finally, large panels of glass create boundaries for the actors to retreat behind, visible yet unreachable.
Ultimately, Crime and Punishment gets lost in its self-examination. Condensing a Russian novel into a 90-minute production seems to be a Herculean task, but ultimately even this is too long. Two lessons taught in all literature courses still ring true in this case: A theme is an idea in a work of art, it is not a work of art; and show, don't tell.
However, Crime and Punishment is as relevant today as it was last week, last year and, unfortunately, tomorrow. It helps, in whatever way possible, to try to explain how a man can be so cruel and how anyone can hope for redemption. Even if this production only gets us part of the way there, it's a start.