If you stayed awake in 10th-grade history, then correctly answering, "What was the fate of Sir Thomas More?" is a no-brainer: He crossed the King, was charged with treason, and lost his head. Not a lot of mystery surrounding this one. It's akin to asking, "How did that film about the Titanic end?"
Since suspense is not going to sustain A Man For All Seasons, what's needed is a well-acted and engaging performance to get you through to the end. Unfortunately, the Keegan Theatre's production only gets you halfway there. While there are very few obvious flaws with the show, that's not to imply that it's a flawless production.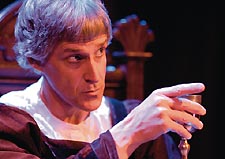 Head case: Lynch
(Photo by Ray Gniewek)
Robert Bolt's historical play about a man who remains true to his beliefs takes on new meaning in today's current political climate. The lesson that intelligence makes decisions more difficult is not overstated, but the subtle wink is enough to get the point across. It's a nice way to make a 470-year-old story relevant, but a wink only gets you so far.
A Man For All Seasons follows Sir Thomas More (Tim Lynch) from his rise to the position of Lord Chancellor, to his fall — or rather, the fall of his head from the executioner's block. Despite endless conversations as to why, More's battles and steadfastness to his convictions are not understood by the good guys or the bad.
Standing by his side are his wife, Alice (Charlotte Akin), and his daughter, Margaret (Melissa-Leigh Douglass). Douglass is dutifully loyal as the daughter, but Akin brings more conviction to her role as a wife who doesn't always understand why principle comes before caring for family.
Opposing More is a near army of scheming and conniving power-hungry politicians, drawn as one-dimensional villains when compared to More's pious stances, including Richard Rich (Carlos Bustamante), the Duke of Norfolk (Kevin Adams) and, worst of all, Thomas Cromwell (Mark Rhea).
Of course, at the root of the problem is King Henry VIII (Jon Townson), whose divorce sparks the whole mess to begin with. Townson's regal entry into the theater is reminiscent of a fast food commercial (the resemblance to the Burger King mascot is striking), but fortunately this passes and Townson is able to provide a performance worthy of a king — at least one with some tarnish on his crown.
A Man For All Seasons

To May 12
Church Street Theater
1742 Church St. NW
$20-$25
703-892-0202
www.keegantheater.com
The best part of the play and the production is the role of Common Man (Robert Leembruggen), who provides both the most light-hearted laughs and the most chilling moments. At first, Common Man seems to be device primarily used to literally set the stage for the each scene. Leembruggen gets a real workout moving the props around — almost to the point of worry for his health — but does a great job as first a jester and then the voice of conscience for the people. Capturing the reluctance of common people to turn against More, Leembruggen slowly reveals that there is more to his character than manual labor. It's a great theatrical device that director Susan Marie Rhea employs wisely.
More than a little self-righteous, Lynch has a fine line to walk in taking More down the steps to his demise. As More approaches his end, Lynch builds towards his finest performance during the show, shaking back and forth like a man who has spent months locked away — his mind still sharp, but his body suffering.
Bustamante has the most character development to work with — the transformation of Rich from a political aspirant to a successful sell-out — which is equally achieved through costuming and his own air of superiority. Akin and Douglass provide some heart to the show, bringing compassion to a story otherwise dominated by ruthless men.
In fact, no one does a poor job during the show, but who would have thought that a story of treason and death could be so…bland? Ultimately, the play falls prey to the preachy nature of the story. Overly verbose dialogue and awkward pacing bogs the story down in its own self-importance. Rather than being a gripping account of history come to life, A Man For All Seasons ends up more like a classroom lecture given by a long-winded professor.